NetSpot has 6 versions available right now: NetSpot Free can be downloaded directly from our website and upgraded to Home, PRO or Enterprise (macOS and Windows) and two versions are available on the Mac App Store. We understand that when you are just getting to know NetSpot, choosing the right version may seem a little confusing, so we'll try to explain the differences between these options comprehensively.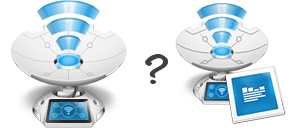 Mac App Store:
NetSpot Scanner is more or less similar to NetSpot Home (available for the upgrade on our website). Both are limited to personal use, with limitations on the size and scope of the scanning project. Two visualizations (SNR and SIR) only, limited to 1 zone, 1 snapshot, 50 data points,1 AP visualized, etc. (please see the chart below for a more visual comparison).
NetSpot Reporter is similar to NetSpot PRO (available for the upgrade on our website). Both can be used for commercial projects and have greatly expanded capabilities.
IMPORTANT! NetSpot WiFi Reporter adds advanced visualizations and powerful reporting features to the NetSpot WiFi Scanner and DOESN'T work without the latter installed.
If they are so similar, why do they have different names?
The reason is that Apple imposes certain limitations on the apps sold in the Mac App Store. The versions in the App Store (Scanner and Reporter) can not have the full capabilities of the versions sold on our website (Home and PRO). The biggest difference is that the versions from the App Store do not have Discover Mode. There are other, smaller differences as well. Please see the chart below for easier visual comparison. Click the feature name in the left column to learn more about it.

In short,
if you want the fullest capabilities and the most frequent updates, please consider purchasing of the Home, PRO (or Enterprise) version directly from our website.
However, if you buy the Reporter version from the App Store and decide later that you need the Home or PRO version, there is an upgrade discount available — please
email us
with your request, along with your proof of purchase from the App Store (preferably, your Apple Store receipt).
Website
NetSpot Free
NetSpot Home
NetSpot PRO & Enterprise
Price
free
$49.00
starts at $149.00
OS
macOS
Windows
macOS
Windows
macOS
Windows
Discover Mode
Yes
Yes
Yes
Yes
Yes
Yes
Version
2.14
2.14
2.14
2.14
2.14
2.14
Updates
More frequently
More frequently
More frequently
Support
Basic
Priority
Priority
License Use
Non-commercial
Non-commercial
Commercial
Zones Per Project
No
No
2 zones
2 zones
50 zones or unlimited
50 zones or unlimited
Snapshots Per Zone
No
No
2 snapshots
2 snapshots
50 snapshots or unlimited
50 snapshots or unlimited
Data Points Per Project
No
No
50 data points
50 data points
500 data points or unlimited
500 data points or unlimited
Number of Visualizations
No
No
Only 3 (Signal, SNR, SIR)
Only 2 (Signal, SIR)
16 Pro visualizations
12 Pro visualizations
Maximum Number of APs Visualized
No
No
Only 5
Only 5
Unlimited
Unlimited
AP Grouping
No
No
By SSID Only
By SSID Only
6 grouping options plus custom groups
6 grouping options plus custom groups
Export Capability
None
None
None
None
Advanced customizable reports
Advanced customizable reports
Active Scanning Capability
No
No
No
No
Yes
Yes
Hidden SSIDs Supported
No
No
No
No
Yes
Yes
Autosaving Capability
No
No
No
No
Yes
Yes
Multi-floor surveys
No
No
No
No
Yes
Yes
Adjust Area Type
No
No
No
No
Yes
Yes
Rename APs
No
No
No
No
Yes
Yes
Cross-Project Imports
No
No
No
No
Yes
No
updated:
April 6, 2022
author: