1) First, review our survey "Tips and Hints." Then launch NetSpot and click "Start a New Survey."
2) Give your project a name (such as "My House") and then give a name to the first zone you are going to scan (such as "First Floor"). If you are a PRO user, you can also set the zone environment type.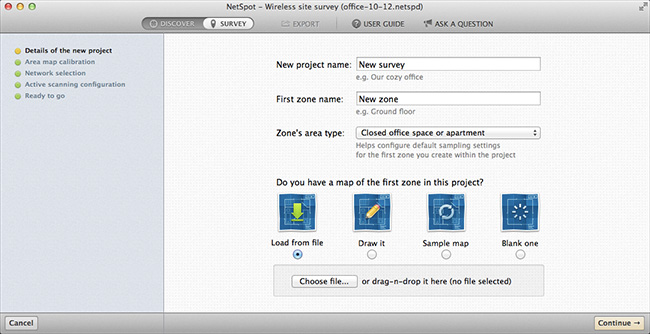 3) Select the option to load a map from your computer, or draw a map, then click Continue on the bottom-right of the screen.

4) Click on two points on the map, and then input the actual distance between them in the box at the bottom of the window. Be sure to select the correct unit of measurement (feet or meters).  Then click
Continue
.
5) The next two screens allow PRO users to add hidden (non-broadcasting) networks and to perform an active scan. If you are not a PRO user, or do not need these options, simply click Continue to move forward.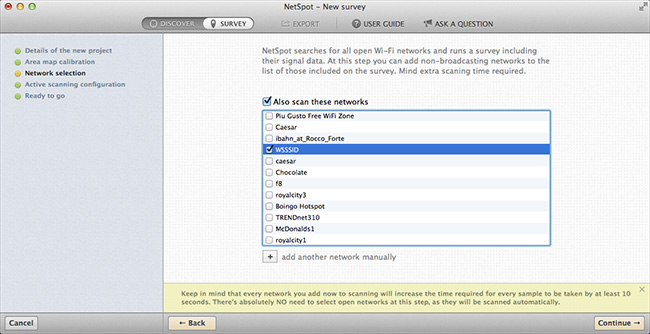 6) Walk to one corner of your space and click the point on the map that corresponds to where you are standing. The app will then take its first measurement, which can take 10 seconds to a few minutes. Be sure to stay still during this time. It is finished when the green circle appears.
7) Continue moving and scanning until you have covered the whole area of the map that you wish to scan. (Note: You don't have to scan the entire map area. Scan only the portions you wish to survey for this zone.) You should take your measurements close enough that the green circles overlap slightly. Most of your survey area should be green by the time you are finished.
9) Click the Stop Scan button on the bottom-left of the NetSpot window when done, in order to view the heatmap visualizations.
To learn more about each visualization, view types and benefits of NetSpot WiFi heatmaps in the knowledgebase. You can view What does the Toggle menu do? to learn how to adjust your heatmap views, including viewing detailed sampling points. Or view How do I save, export or print my survey? to be sure that you save your work.

updated:
November 10, 2022
author: