In the free version of NetSpot, the list of networks on the left-hand sidebar is automatically grouped by SSID name. But PRO and Enterprise level users have the ability to group networks by: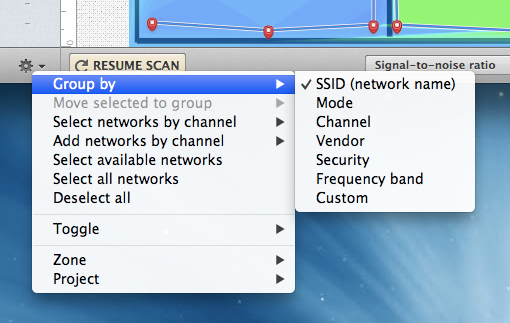 Mode
Channel
Vendor
Security Type
Frequency Band
Custom Groups
This makes it easier to select and deselect related networks with one click.
To group by one of the first 5 options, simply click on the Project Configuration gear icon on the bottom-left (near the Resume Scan button) and select it from the "Group by…" submenu. The networks on the sidebar will automatically be arranged by the option indicated.
To add a custom group:
Select Group by > Custom Groups from the Project Configuration menu.
Then either right-click on the network list (or click on the Plus (+) sign on the bottom-left) and select Add Custom Group.
Type the name for your new group in the blank that appears.
Repeat steps 2 and 3 as needed for additional custom groups.
Click on the networks you wish to add to a group and drag-n-drop them onto the custom group name. They will appear in the new group.
To select, or deselect, all networks within a group, simply click the checkbox next to the group name.
updated:
August 19, 2022
author: