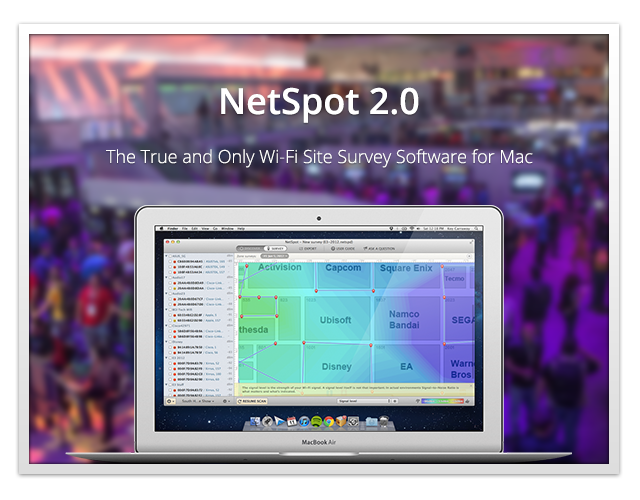 We're so excited to announce the release of NetSpot 2.0. Users of version 1.3 will see many improvements and we have added a bunch of cool new features. The standard version of NetSpot remains completely free, as always. However, we are pleased to announce that we now have two upgrade options: PRO and Enterprise.
The PRO edition gives network administrators even more advanced features, including multi-floor scanning and active scanning (more on that below). The Enterprise edition allows commercial use and provides licenses to all users within a company, along with priority support. See our upgrade page for pricing and a feature comparison.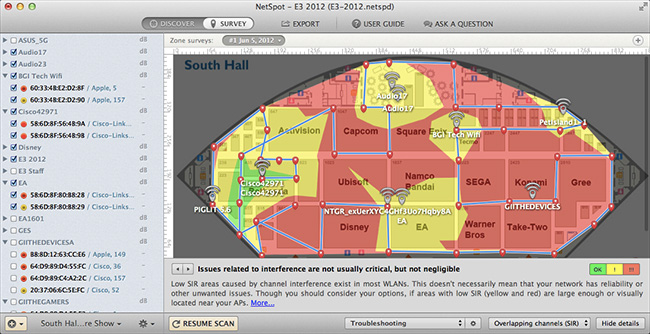 What's New
On November 14th 2012 NetSpot 2.0 was updated to 2.0.274. Here's the list of changes in this minor release.
Here's a list of the major new features in 2.0. The word [PRO] means it is a PRO/Enterprise feature only.
Sampling Point Deletion: Any data point may now be deleted at any point during the scan. No starting over if you place a point in the wrong spot!
Streamlined User Interface: Refreshed and sleek, the new interface simplifies the site survey process and improves your workflow.
Wireless Discover Mode: Allows you to quickly identify surrounding Wi-Fi networks and analyze them — without needing to run a full survey.
Manual Re-location of APs: If the location of an AP isn't quite right, it can now be moved with just a click.
Troubleshooting Advice: Our knowledgebase now provides advice on how to solve six of the most common Wi-Fi network issues: low signal strength, high noise levels, issues with SNR, issues with SIR, low upload rates, and low download rates.
[PRO] Active Scanning: Gives you the ability to measure actual Internet speed in your survey area. Upload and download speeds, as well as wireless transmit rates are recorded.
[PRO] Active Scanning Visualizations: Upload Speed, Download Speed and Wireless Transmit Rate heat maps are available for active scans.
[PRO] Automated Troubleshooting Visualizations: Six special troubleshooting visualizations highlight areas of potential problems and provide you with recommendations on how to improve them.
[PRO] Multi-Floor Scanning: Allows smart multi-floor placement of discovered APs. APs from other floors will be shown as ghosts on the map.
[PRO] Zone Snapshots: Easily duplicate zones, so you don't need to configure new zones every time you relocate your hotspots or make changes to the environment.
[PRO] Advanced Network Grouping: Easily group networks by band, channel, vendor, or security type — or set up your own custom groups.
[PRO] Hidden Network Scanning: Finally, networks that don't broadcast their SSIDs can also be scanned.
[PRO] Autosave: Don't worry about losing your data with automatic project saving every 1, 5 or 30 minutes.
[PRO] Custom Aliases: Now you can assign custom aliases to your APs to better manage your hotspots.
[PRO] Environment-Based Project Presets: For users scanning large areas, these presets will customize the prediction sampling radius, allowing a greater distance between sampling points.
What's Improved
Map icons: More informative map indicators now show your scanning progress.
PDF Exports: Better exports of visualizations into PDF that include technical information about the survey. The PDFs can also have the sampling points and scanning path displayed or hidden, just like in the app itself.
Data Display: Hovering over any spot on your map will update displayed parameters in real-time — no need to click to see the values under the cursor.
AP Detection: Improved predictive automatic detection of AP locations.
Algorithms: Better algorithms for passive scanning and standard visualizations.
Ability to Rename: Now users can rename projects, zones and snapshots.
Keyboard Commands: The last sample can be canceled by hitting CMD+Z.
Drag-N-Drop: NetSpot project files can be opened by drag-n-dropping them on the app or its dock icon.
Hibernation: NetSpot now supports hibernation.
Quantity of APs: When you hover over a spot on the map in the Quantity of APs visualization, the corresponding shade of grey is highlighted on the scale at the bottom.
What's Next
It doesn't stop here. We have a bunch more requested features in the pipeline, including: active scanning on a per-sample level, advanced flexible multi-visualization exports and zone snapshot comparisons.

updated:
May 4, 2018
author: