WiFi Channel Scanners for iOS (iPhone, iPad)
WiFi channel scanners for iOS, such as the NetSpot WiFi channel scanner, can help you pick the best possible channel for your Wi-Fi network so that you can enjoy fast and stable access to the internet. Continue reading to discover what the best iOS WiFi channel scanners are.
To get you started, we've picked our top three favorite WiFi channel scanners for iOS that you can download right now directly from the App Store. Each WiFi channel scanner for iOS listed below is intuitive and beginner-friendly yet capable of delivering accurate results.
What Is the Best Wireless Channel to Use?
Determining the best wireless channel to use is not too challenging, but it does require a basic understanding of how WiFi networks operate. Traditionally, consumer routers have broadcast on two main bands: the 2.4 GHz band and the 5 GHz band. The 2.4 GHz band is older and more congested, but it has a wider range. On the other hand, the 5 GHz band is less crowded and can deliver faster speeds, but its signal doesn't travel as far.
In North America, the 2.4 GHz band extends from 2,401 MHz to 2,483 MHz, and it's divided into 11 channels, each spaced 5 MHz apart from one another. Because each channel is 20 MHz wide, adjacent channels overlap, which can lead to signal interference.

As a result, it's typically recommended to use channels 1, 6, and 11, as these are the only non-overlapping channels in the band. The 5 GHz band is divided into 24 non-overlapping channels, each with a bandwidth of 20 MHz, giving you more options for avoiding interference.

In 2020, the WiFi spectrum was expanded to include the 6 GHz band, also known as WiFi 6E. This band offers an additional 1,200 MHz of spectrum and 59 non-overlapping 20 MHz channels, drastically reducing the chances of interference and congestion.
But which of these three channels is the best one? The answer is simple: the one that's used the last, and that's something any iPhone WiFi channel scanner can tell you. Once you know what the least used channel is, the only thing remaining is to learn how to change your WiFi channel.
Why Would I Need to Use a WiFi Channel Scanner for iOS?
You need to use a WiFi channel scanner for iOS because that's the only way how to find out which WiFi channels are used by all nearby networks without a laptop. With the right iOS WiFi channel scanner, collecting this important information becomes a matter of a few simple taps.
The gathered information can then be used for WiFi channel planning when deploying a new network or optimizing an existing one. The goal of WiFi channel planning is to avoid co-channel interference, which occurs when too many networks are broadcasting on overlapping channels.
Top 5 Best WiFi Channel Scanners for iOS
The App Store is home to many WiFi channel scanners for iPhone and iPad, but they all share one important limitation: they can't analyze live WiFi data of any other network besides the one you're currently connected to — at least not without an additional hardware device connected to your iPhone or iPad.
Still, there's a lot that a capable iPad or iPhone WiFi channel scanner can tell you, including your internet speed, network name, signal strength, channel, router MAC address, security settings, and more. Here are the three best WiFi channel scanners for iOS.

NetSpot is an easy-to-use WiFi channel scanner app for iPhone and iPad that brings many features from its desktop counterpart to the iOS world. It's intended to work with the WiPry 2500x dual-band spectrum analyzer (2.4 & 5 GHz), which gives it the ability to perform highly accurate WiFi analysis and scan your and surrounding wireless networks at the same time.

If you don't want to spend money on the WiPry 2500x dual-band spectrum analyzer, you can still use NetSpot to measure your WiFi speed and see basic information about your WiFi network. NetSpot can display detailed information about WiFi access points, including their names, band, channel, signal level, and so on.
NetSpot for iPhone now offers an essential option of measuring the Internet speed of the network you are connected to. You can quickly measure the download speed and the ping value and if needed compare these values to your previous test results for a more profound analysis. You don't need the WiPry 2500x device to perform the Internet speed test!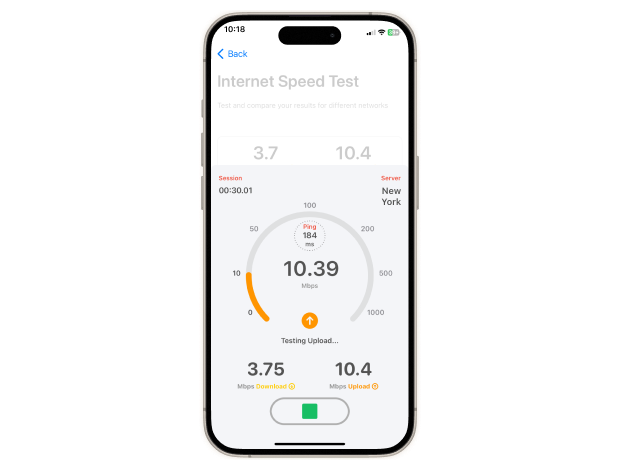 You can filter available networks by various criteria to quickly find the network you're looking for and fix issues with WiFi channel overlap, signal interference, or security settings. NetSpot runs on all iPads and iPhones with iOS 11.0 or later, and it's available in English, French, German, Italian, Portuguese, Russian, and Spanish.
Pros and Cons
Highly capable

Impressively intuitive

Accurate results

Frequently updated

Available in multiple languages
WiPry 2500x is required to use all features
---
Just because Network Analyzer doesn't have nearly as inviting user interface as NetSpot shouldn't automatically disqualify it from your consideration. This free WiFi channel scanner app for iPhone and iPad offers a lot of essential functionality in a compact package, making it a great addition to your iOS app collection.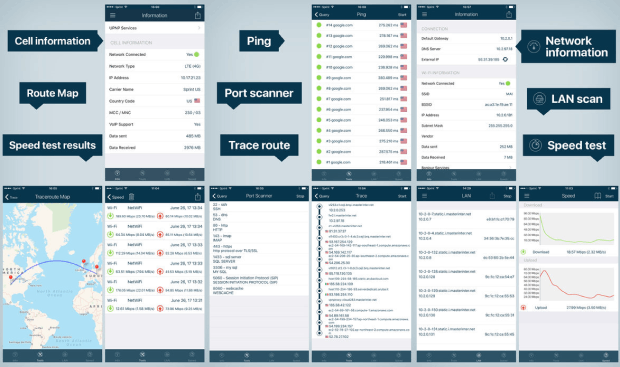 You can use it to detect network devices, see their IP addresses, perform round trip delay tests, and, of course, gather as much information about your WiFi network as you would ever need. Less experienced users may be somewhat overwhelmed by the high information density, but that's exactly what professional network administrators, who are the target audience of Network Analyzer, ask for.
If you would like to unlock even more features than the free version of Network Analyzer has to offer, then you can purchase Network Analyzer Pro for $3.99.
The Pro version can test both download and upload speed, scan the most common ports or user-specified port ranges, perform DNS lookups, and more.
Pros and Cons
Affordable full version

Displays a lot of useful information

LAN scanning capabilities

Frequently updated
Not the most intuitive tool of its kind

Doesn't show WiFi channel distribution graphs
---
Don't let the Matrix-inspired user interface of this WiFi channel scanner for iPad and iPhone fool you into thinking that it's some kind of hacking tool meant to crack WiFi passwords and steal sensitive information because that couldn't be further from the truth.
In reality, Scany describes itself as the Swiss army knife of WiFi channel scanners, and this description is fitting. You can use it to detect all network devices (including hidden ones), find network path bottlenecks, scan predefined and custom ports, look up IP address information, and more.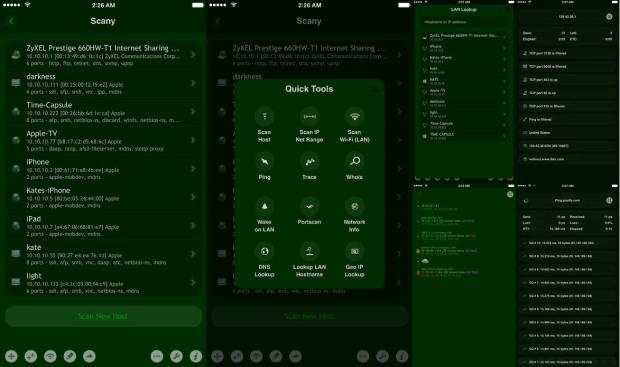 Scany costs $5.99, and there's no free version available. The app runs on iOS 10.0 or later, and it has been translated into English, Dutch, French, German, Italian, Russian, and Spanish.
Pros and Cons
Fast port scanner

Lots of useful features

Extensive scan export options
It's UI isn't for everyone

Paid version only
---
This free-to-use app (and it's ad-free too, mind you) empowers you to optimize your home or office network with its intuitive user interface and reliable features.
WiFiman detects and connects to all available WiFi network devices in a flash. This is made possible by using a mix of Bonjour, SNMP, NetBIOS, and Ubiquiti discovery protocols that scan the network subnet for available devices, providing you with a complete overview.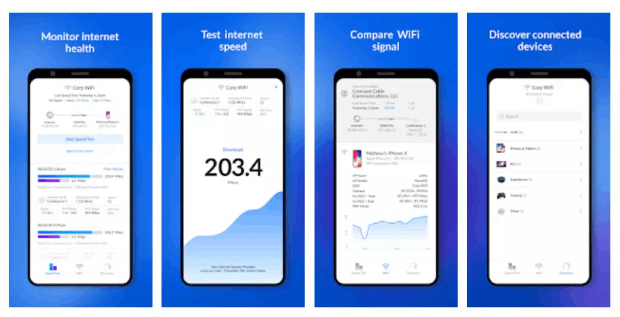 Ever thought of measuring your network's download and upload speed? WiFiman comes with a built-in speed test feature, enabling you to conduct tests, store results, and compare network performance over time.
The biggest downside is that it can't map signal strength without an external device called WiFiMan Wizard. Despite this, Ubiquiti WiFiman still holds its own as a powerful wifi channel analyzer app for iPhone and iPad.
Pros and Cons
Great user experience

Well-rated

Accurate results
Some features require an external hardware scanner to work
---
WiFi Analyzer Network Analyzer is a comprehensive tool with a clean user interface that empowers its users to analyze the status of WiFi networks, discover devices connected to WLAN, and pinpoint network issues, among other things.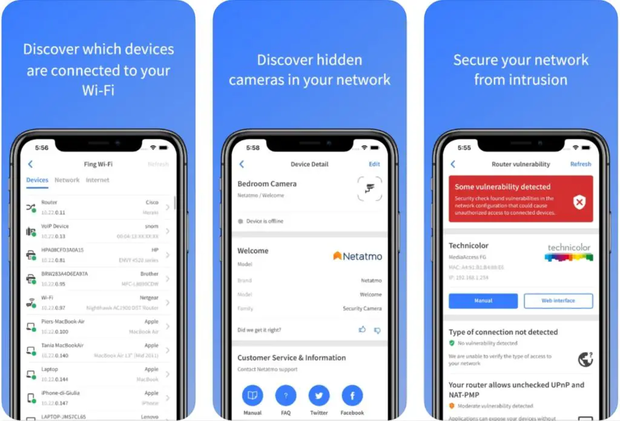 Although it doesn't analyze WiFi channel distribution, its wide range of features significantly compensates for this. For example, the app allows for speed tests across 2G, 3G, 4G, 5G, DSL, ADSL, and Wi-Fi connections, and its Game Ping feature lets you measure the latency of your network to ensure a lag-free gaming experience.
WiFi Analyzer Network Analyzer comes with a flexible pricing model. You can choose a weekly subscription at $2.99, a monthly subscription at $5.99 (which includes a 3-day free trial), or a lifetime subscription at $14.99.
Pros and Cons
Clean user interface

Many features in a neat package

Intuitive Game Ping feature
Doesn't analyze WiFi channel distribution

Subscription plans can get expensive
How to Scan for WiFi Channels on iPhone or iPad
There are two ways how to scan for WiFi channels on iPhone or iPad.
The first method relies on the AirPort Utility, which is a simple WiFi management tool created by Apple to help users manage their AirPort base stations:
Download the AirPort Utility from the App Store.
Open the Settings app and scroll down until you see the AirPort Utility.
Click the AirPort Utility option and turn on the WiFi scanner.
Launch the AirPort Utility app and tap the WiFi Scan button.
Tap the Scan button and wait for the AirPort Utility app to gather information about nearby networks.
Tap the Stop button once you've collected enough data and analyze the results.
The second method uses a third-party iPhone WiFi channel scanner like NetSpot, which is far more user-friendly and feature-packed than the AirPort utility, giving you a comprehensive picture of your WiFi environment:
Download the NetSpot WiFi channel analyzer for iPhone from the App Store.
Connect the WiPry 2500x by Oscium spectrum analyzer to your iPhone.
Launch NetSpot and select Discover mode to see WiFi parameters in real-time.
FAQ
Is there a WiFi Analyzer app for iPhone?
Yes, there are multiple third-party WiFi analyzer apps for iPhone that can provide you with all the information you need to optimize your wireless network, including NetSpot. There's also Apple's AirPort Utility app.
How do I analyze WiFi channels on my iPhone?
To analyze WiFi channels on your iPhone, you need to:
Download an iOS WiFi channel analyzer, such as NetSpot, from the App Store.
Launch the channel analyzer app.
Scan your surrounding area and analyze the collected data.
How do I find the best WiFi channel on my iPhone?
To find the best WiFi channel on your iPhone, you need to first discover which channels are in use by nearby WiFi networks and then determine which of the three non-overlapping channels (1, 6, and 11) is used the least.
What is the best WiFi channel analyzer?
The best WiFi channel analyzers for iOS are:
NetSpot (Free)
Network Analyzer (Freemium)
Scany (Paid, $5.99)
These apps work great as WiFi channels scanners on iPads and iPhones, and you can download them all from the App Store.
How do I scan for Wi-Fi channels on my iPhone?
Scanning for Wi-Fi channels on your iPhone is a straightforward process that you can achieve by following these steps:
Download a WiFi channel scanner app for iPhone such as NetSpot.
Launch the WiFi channel scanner app on your iPhone.
Connect WiPry 2500x to your iPhone.
Let NetSpot scan your surrounding WiFi environment.
Analyze the scan results.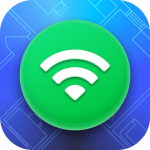 NetSpot for iOS
Discover surrounding WiFi networks, get the real-time data and analyze it on the spot. You'll need iOS 11.0 or newer