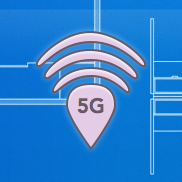 RECENT UPDATE: September 2015, NetSpot 2.4.623 released. We keep polishing the product while something really new is getting ready to be revealed. Meanwhile the new build is addressing a few visual and internal issues and acknowledges smoother loading of large map files. Scroll down for more details.
Previous updates:
June 2015, yet another minor update posted for NetSpot 2.4. The build #2.4.607 adds several requested features and improves overall app efficiency. We also did some preliminary improvements for the upcoming OS X El Capitan 10.11, more to come.
March 2, 2015, NetSpot 2.4.590 is released.
Today, February 9, 2015, we release NetSpot 2.4.585. It's also a minor release that addresses a few issues reported by our users, and adds a few polishing touches here and there. See the changelog below for details.
On January 2nd, 2015, we uploaded NetSpot 2.4.583 with a critical fix of the annoying freezes when loading projects that contained incorrectly formatted or empty BSSID values.
Earlier, NetSpot 2.4.582 was released. It's mostly a polishing update with tons of minor improvements, however, it also includes some of the freshest fixes for the most burning issues (mostly related to OS X 10.10) kindly reported by our users. Here's the full changelog of this update:
critical fix

[build 590] noise value reported as 0 for some networks by AirPort framework

new

[build 623] new option to export only the surveyed part of the map

new

[build 623] new AP indicators in 3 new sizes

new

[build 623] easily copy network's name and MAC-address into clipboard

new

[build 607] now you can relocate data samples positioned incorrectly on the heatmap

new

the UI raster images have been upscaled, and NetSpot is finally Retina Ready

new

[build 585] iperf lib version 3.0.11 integrated

new

import and export of project-level AP aliases in CSV

added

"Forget all" option to Aliases Preferences

added

[build 594] a pause after connecting to network and before speed test to ensure the Internet connection is already up

added

[build 607] now you can disable automatic opening of the exported reports
default scanning interval is now 10 sec in Discover mode in OS X 10.10 to prevent frequent drop outs of the signal reported by possibly buggy AirPort framework in OS X 10.10

updated

[build 590] new API used to connected to Wi-Fi networks

updated

the database of hardware vendors' MAC-addresses

improved

[build 623] adding custom aliases to networks in the sidebar

improved

[build 623] heatmap generation on Retina displays

improved

[build 623] map calibration usability

improved

[build 590] connecting to Enterprise wireless networks

improved

[build 585] network list update speed in Discover mode

improved

[build 585] more precise positioning of the scaling marker when starting a new project; the marker now has its bottom tip showing the exact position, instead of its center

improved

[build 585] rulers behavior when dragging the heatmap in Survey Mode

improved

[build 585] text alignments in Discover Mode

improved

iperf configuration options in Preferences

improved

data tables in exported Advanced reports

improved

overall improvements of the configuration controls in Preferences

improved

AP aliases editing when networks list is being updated in Discover mode

improved

info-popover in heatmaps of Active Scanning visualizations will now list only values for networks that were part of that scan

improved

Wi-Fi errors decoding

improved

[build 607] no more horizontal scrolls in popovers on heatmap

possible fix

[build 623] unusual signal level values on OS X 10.10

fixed

[build 623] proper wording for loaded map dimensions

fixed

[build 623] occasional crashing in full-screen mode

fixed

[build 623] double-clicking behavior in the sidebar

fixed

[build 623] error creating a custom group with the duplicate name

fixed

[build 623] a bunch of random exceptions in Discover mode

fixed

[build 607] the names of exported visualizations of Frequency Band Coverage and PHY Mode corrected

fixed

[build 607] no data in Discover mode on app launching in random cases on OS X 10.10.3

fixed

[build 594] Detailed Discover mode has corrected channel width for AP's transmitting in ac

fixed

[build 594] Advanced export now has icons that specify which signal is good or bad on a heatmap

fixed

[build 594] Correct Wi-Fi mode is displayed for connected network (issues were reported for b/g modes)

fixed

[build 590] shortened information in popup's over the heatmap

fixed

[build 590] incorrect channel width for 5GHz band

fixed

iperf visualizations export bugs

fixed

channel width detection in ac mode

fixed

crashes when performing speed test via UDP

fixed

maximum values for Active Scanning visualizations in the sidebar networks list

fixed

[build 585] ignoring networks with improper or empty MAC-address

fixed

[build 585] incorrect width of the sidebar in Survey Mode which prevented reading full network names

fixed

[build 585] exceptions that could stop the scanning process and cause blank app dialogs

fixed

minor issues related to AP aliases management

fixed

selected network highlighting in OS X 10.10

fixed

UDP jitter value display

fixed

random crashes due to incorrect format of (or empty) BSSID of some networks in OS X 10.10

fixed

zone and snapshot description editing when exporting the advanced report

fixed

caption and window properties of the Details dialog in Discover mode in OS X 10.10

fixed

some occasional exceptions
corrected some nasty typos in the UI texts, like MBps->Mbps, ergh… sorry for that
Get the new update here. Or just follow the auto-update hints in any of the previous NetSpot releases.
Scroll further to see the original post and full explanation of what NetSpot 2.4 is about!
***
You'll be pleased to know that our bigger, better, stronger NetSpot 2.4 is available today as a free update for all users. It has ten+ new features, as well as numerous improvements and bug fixes. This update also adds full and improved support for OS X 10.10 Yosemite.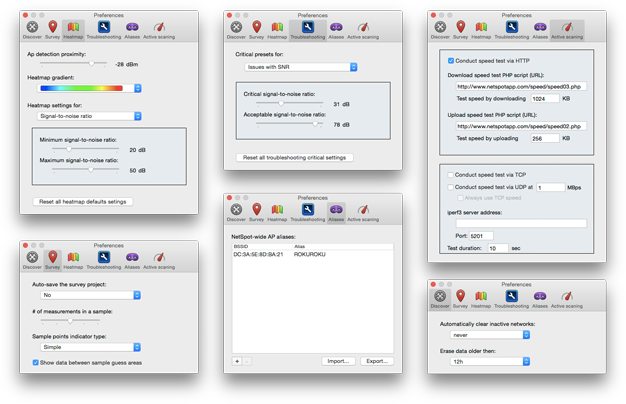 First, we're excited to tell you that NetSpot now has Global Preferences, accessed from the main menu bar (NetSpot > Preferences). This gives you one convenient spot to adjust NetSpot's settings, and adds a bunch of new options — including a brand-new way to manage AP aliases. There are six sections (note that some features are for PRO users only):
We've also added a bunch of new features to Discover Mode. The right-click menu is now available when clicking on any column (instead of just the first one), and it now includes an option to set a custom color for each network. The right-click menu offers more selection options as well, including Invert Selection, Select All Filtered, and Select Networks by Channel.
Two other often-requested new features are the ability to add a heatmap legend when exporting heatmaps as images and the ability to skip all further tests if an error occurs during Active Scanning.
We've also squashed several annoying bugs, including the excessive memory consumption that was occurring with the following visualizations: Quantity of APs, PHY Mode Coverage, and Frequency Band Coverage, as well as errors that occurred when exporting or clearing data in Discover Mode.
Ready to update? Click here to download version 2.4 now!
updated:
November 16, 2022
author: