The Top 5 Best Apps to Measure Wi-Fi Signal Strength on Android
Internet connectivity is what makes our Android devices the invaluable companions they are. That's why nothing can be more frustrating than dealing with intermittent network issues and slow WiFi speeds. But with the best Android signal strength apps recommended in this article at your disposal, you can not only diagnose but also improve your Wi-Fi experience with ease.
Best Wi-Fi Signal Strength Meter Apps for Android
The following apps have been chosen for their functionality, user-friendliness, and ability to deliver accurate data about your network's performance. Let's dive in and find out which app suits your needs the best.
Tip: Android users are not the only ones who need to measure Wi-Fi signal strength. If you're a Windows or Mac user and need to test your network's performance, check out our guide to the best apps to measure WiFi signal strength for Windows and the best apps to measure WiFi signal strength for Mac.

NetSpot for Android tops our list as the best app for Wi-Fi signal strength measurement because it makes highly accurate signal strength testing accessible to all Android users — not just the geekiest ones.
Inspector mode

Сollect every detail about surrounding Wi-Fi networks.

Survey mode

Outline your real-life Wi-Fi data on a map quickly and easily

With its two primary modes, Inspector and Survey, the app allows you to collect extensive wireless data and even create interactive WiFi heatmaps directly on your Android device. Best of all, you can export the data gathered by the app to your desktop to check WiFi signal strength using NetSpot for Windows.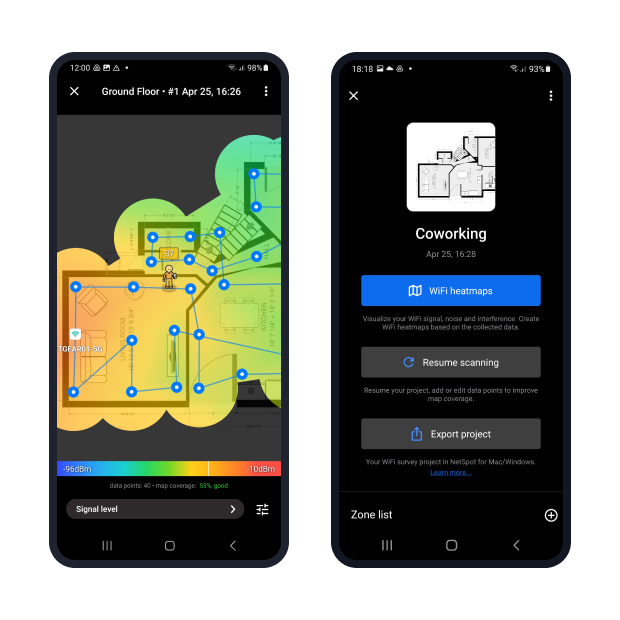 Also included with NetSpot for Android is an internet speed testing feature that you can use to determine the actual speed of your WiFi network to compare it with the numbers promised by your internet service provider (ISP).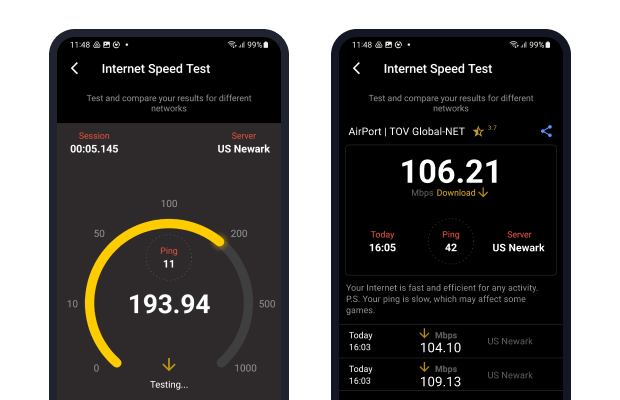 Soon, NetSpot developers plan to introduce a predictive WiFi site survey feature, also known as WiFi planning mode, which will enable users to plan and visualize WiFi networks even before installing any physical equipment. They're also working on advanced PDF reporting and additional heatmap export formats to offer more robust data analysis options.
Pros and Cons
WiFi heatmap generation capabilities

Can export data for further analysis

WiFi 802.11a/b/g/n/ac/ax are all supported

Excellent usability

Frequently updated
In-app purchases required to unlock all features
---
WiFiman is an excellent WiFi signal strength app for Android that seeks to solve the woes of inconsistent internet connectivity and slow WiFi speeds. This app offers a comprehensive toolkit that provides all the functionality needed for effective WiFi signal optimization, from network scanning to speed testing.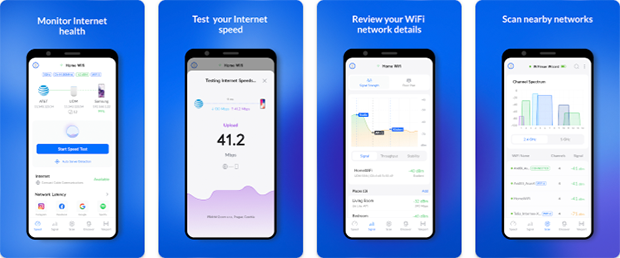 This signal strength test Android app was first released in 2018, and it has since then been downloaded by more than 1 million users. Its completely free nature and the fact that it doesn't even display ads certainly played a major role in its success.
Unfortunately, recent updates have slightly downgraded the user experience, shrinking the spectrum view and removing the ability to use IP addresses as clickable links. Hopefully, the developers will listen to the users of their WiFi signal strength app for Android and address these issues promptly.
Pros and Cons
Extensive network scanning capabilities

Speed test with the ability to store and compare results

Excellent support for Ubiquiti devices

Completely free and without any ads
Minor usability issues

Can't create WiFi heatmaps
---
WiFi Analyzer stands as another top option for those who want to learn how to check WiFi signal strength on Android devices. It provides valuable insights, recommending the best channel and location for your network to help reduce interference, enhance connection speed, and improve stability.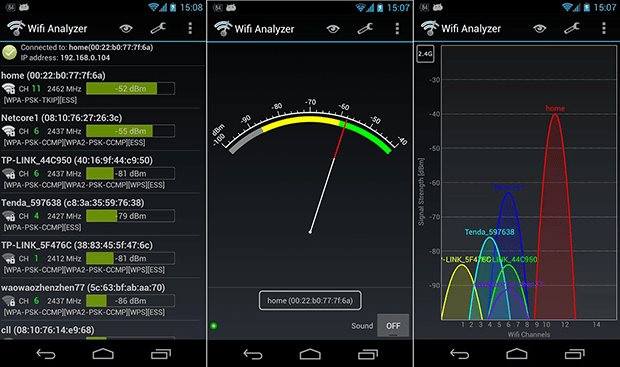 Because WiFi Analyzer clearly values function over form, there's some learning curve that all new users must overcome if they wish to use the app effectively. The good news is that the app supports 17 different languages and can be used for free (in-app purchases remove ads and unlock extra features).
Pros and Cons
Robust feature set

Real-time data and distance calculations

Frequently updated

Supports 17 different languages
In-app purchases required to unlock all features

Intrusive ads in the free version

Can't create WiFi heatmaps
---
Net Signal stands out as a one of the best Android measuring apps for monitoring both WiFi and cellular signal strengths. Indeed, this handy tool can assist you in finding the most optimal areas of WiFi or cellular connectivity in your house, workplace, or anywhere you need a solid connection.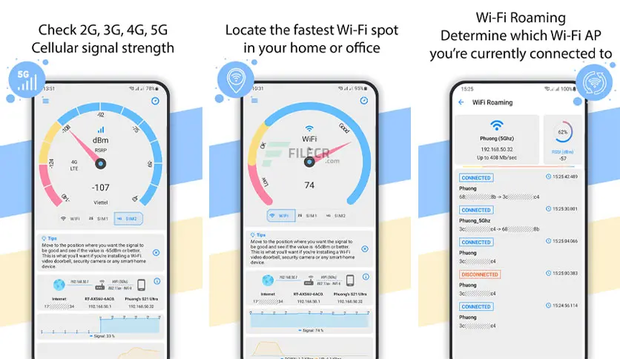 When used as a WiFi signal strength app, Net Signal can provide comprehensive WiFi signal data, such as SSID, BSSID, max speed, IP address, and net capability. As a cellular signal analyzer, the app can analyze 2G, 3G, 4G, and 5G cellular signals, leaving no stone unturned when it comes to getting the details on your network connectivity.
Just know that the free version of Net Signal hasn't been updated since the end of 2022. The paid version, on the other hand, receives updates on a regular basis.
Pros and Cons
Provides both WiFi and cellular signal strength information

Clean and intuitive user interface

All features can be used for free
Contains sometimes annoying ads

Can't create WiFi heatmaps

Last updated near the end of 2022
---
Whether you're eager to analyze the channels utilized by the networks around you or test signal strength on your Android device, Wi-Fi Monitor has you covered.
Although the app is equipped with features for a quick scan in your subnet or a deep scan for a broader range, some users have found the scanning time to be longer than expected. Moreover, the ability to nickname devices is unfortunately lacking.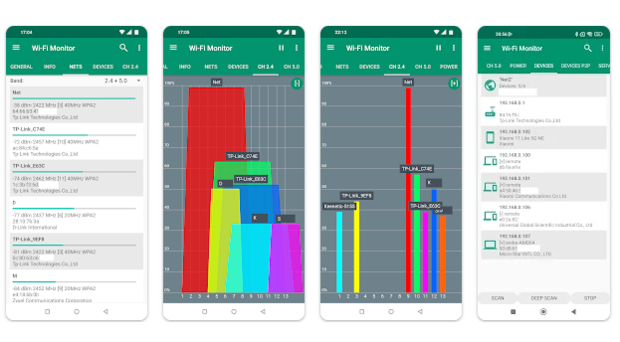 The pro version of the app offers additional features such as an extended dark theme, the ability to generate and export reports in HTML or PDF format, and more extensive device information. But worry not because the free version still offers enough functionality for most users.
Pros and Cons
Clean and functional user interface

Runs on Android 4 and newer

The free version should be enough for most users
Hasn't been updated since 2022

Can't create WiFi heatmaps

Takes longer to collect data

Important features available only in the pro version
What Does the WiFi Strength Indicator Actually Do?
The Wi-Fi strength indicator on your Android device, typically represented by several small vertically arranged bars, provides a basic visual representation of your wireless network's signal strength. Understanding what is a good W-iFi signal strength can help you better interpret this information.

When the icon shows full bars, it means your device has a strong connection to the WiFi network, implying that you're relatively close to the router or there are few obstructions interrupting the signal. You can expect faster loading times and smoother streaming when your WiFi strength indicator is showing full strength.
On the other hand, an empty Wifi strength indicator suggests that your device is not currently connected to a WiFi network, or that the signal is incredibly weak. In these cases, your Android device might default to using mobile data, if available.
How Do I Check Signal Strength on Android?
There are a few different ways you can check the signal strength on your Android device. Some methods provide a general overview, while others give a more detailed analysis of the signal strength. Let's explore some of the most common methods:
Method 1: Check the Status Bar
The easiest and most immediate way to check your signal strength is by looking at the WiFi icon in your device's status bar. As mentioned earlier, the number of illuminated bars gives a basic representation of the signal strength. However, this method doesn't provide specific details about your network's performance or potential issues.
Tip: To gain a more precise understanding, you may want to understand the RSSI level.
Method 2: Go to WiFi Settings
Android devices offer a way to view more detailed signal strength information. Here's how you can do it:
Open the "Settings" app on your Android device.
Navigate to the "WiFi" section.
Select the network you're currently connected to.
The exact information that is displayed can vary depending on the specific model and manufacturer of your Android device, as well as the version of Android you're running. Generally, you can expect to see at least your network's signal strength, frequency, and security settings.
Method 3: Use a WiFi Signal Strength App
For a more detailed and user-friendly way to check signal strength on Android, consider using a Wi-Fi signal strength measuring app. These apps provide real-time analysis, display signal strength in an easy-to-understand format, and often include additional features like network speed tests and device connection quality reports. Some of the best apps for Wi-Fi signal strength have been discussed earlier in this article.
How to Increase Network Signal Strength on Android
Here are some tips on how to improve Wi-Fi signal strength on your Android phone:
Update your device: Regularly updating your device ensures you have the latest software patches installed, including those that directly affect signal strength on Android.
Remove your case: Although they're great for protection against physical damage, some phone cases can interfere with your device's signal reception. If you're struggling with weak signal strength, try removing your case and see if there's any improvement.
Update your router's firmware: If you have a companion app for your WiFi router installed on your Android device, then you can instantly check if there are any firmware updates available and, if there are, install them with a tap.
Change your router's settings: Your router has multiple settings that can impact Wi-Fi signal strength, and you should be able to change these settings directly from your Android device (either using a companion app or by accessing your router's web admin interface).
Determine a better location for your router: The physical location of your router can have a significant effect on signal strength. The best Wi-Fi signal strength apps for Android can help you pinpoint the best location by mapping signal strength throughout your home.
The last two network signal strength optimization tips mentioned are best implemented with the help of a comprehensive network analysis tool like NetSpot for Android, our favorite Android signal strength app.
With NetSpot for Android, you can instantly collect detailed information about the status and configuration of nearby WiFi networks, and you can also visualize indoor and outdoor coverage on a map.
Tip: For more advice on how to increase your signal strength, you can check this detailed guide on how to increase Wi-Fi signal strength.
Conclusion
Optimizing your Wi-Fi signal strength is crucial for a smooth and reliable internet experience, and there are many apps available for Android devices to aid in this process, including the top five picks recommended in this article. Our favorite tool, NetSpot, shines with its ability to generate WiFi heatmaps without any expert or special equipment knowledge required.
Wi-Fi Signal Strength Meter Apps — FAQ
How do you update signal strength on Android?
Updating signal strength on Android is usually done automatically by the device. However, if you want to refresh it manually, you can switch to Airplane mode for a few seconds and then turn it off. This process forces your phone to reconnect to your WiFi router, providing a quick and easy way to check signal strength Android data.
How do I check my phone signal strength?
You can check your phone's signal strength by looking at the signal bars on the status bar. For a more accurate measurement, use one of the WiFi signal strength apps for Android mentioned in this article.
How do I change signal strength on Android?
You can access your router's settings using its companion mobile app or web interface and then switch to a more suitable channel. You can use the best apps for WiFi signal strength analysis to determine which channel you should use.
Why is my signal so bad on my Android phone?
A poor signal on your Android phone could be due to a number of reasons, such as your distance from the WiFi router or the nearest cell tower, physical obstructions like walls and buildings, or even your device's case.
How can I improve my mobile signal strength?
There are several ways to improve mobile signal strength:
Keep your device software up-to-date
Don't use metal smartphone cases
Avoid physical obstructions
Switch to a different provider
Enable all supported cellular standards on your device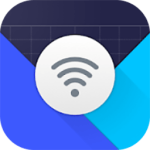 NetSpot for Android
Analyze and compare, perform WiFi site surveys, fix issues with WiFi — all on your Android phone, tablet or Chromebook. You'll need Android 8.0+.