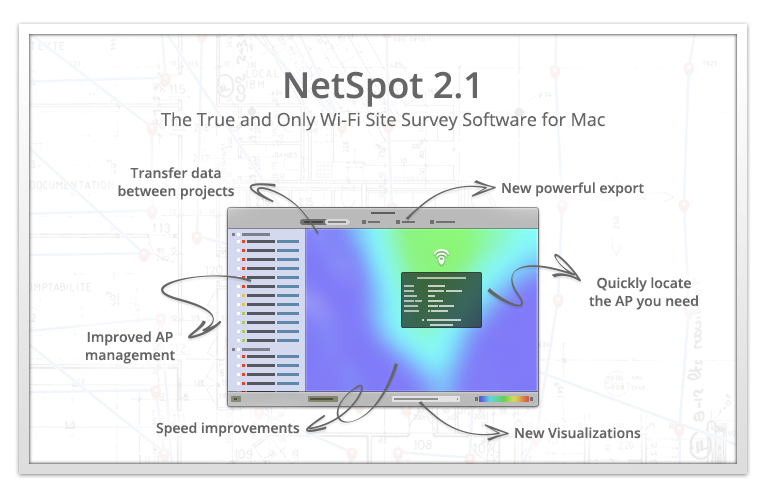 We are pleased to announce the release of NetSpot 2.1. We've added a bunch of your most-asked-for features and we can't wait for you to check it out!
Changes to NetSpot FREE Edition
Before we go into detail about all the exciting new features, there is a change you'll want to make a note of right away if you are a user of the NetSpot FREE edition. With version 2.1, the capabilities of the FREE edition have been scaled back and it is now designed specifically for the home user, with the PRO version geared for commercial use. The following restrictions are being introduced to the FREE edition:
So, if you upgrade your FREE edition of NetSpot, these restrictions will be added and you will need to purchase the PRO edition if you wish to remove them. If you are a home user, the new restrictions are unlikely to affect you. Note that you don't have to upgrade to version 2.1 if you don't want to – you can continue to use NetSpot 2.0 as long as you'd like.

We know we'll hear some grumbling about these changes, but NetSpot is a quality product. If you are using it in a professional capacity, we believe you will acknowledge that it is worth paying for. We want to continue to expand NetSpot's capabilities, and we need your support to do so.
If you do decide to upgrade to the PRO edition, it will continue to be offered at the introductory price of $99 for 2 more weeks. After that the price will rise to $149.
What's New
Here's a list of the major new features in 2.1. The word  PRO  means it is a PRO/Enterprise feature only. You can also view the complete changelog here.
 PRO

 Advanced Export in all its glory! Generate professional reports with the ability to completely customize the networks, zones, and visualizations included.

 PRO

 Group networks by frequency band (2.4/5GHz) in the sidebar

 PRO

 A new visualization has been added for "Frequency Band Coverage"

 PRO

 A new visualization has been added for "PHY Mode (a/b/g/n) Coverage" (hover any point on the heatmap to see which modes are active there)
The Scan Interval can now be adjusted in Discover mode (5, 10, 30 or 60 seconds)
The underlying map image can be hidden via the Toggle menu
The AP selected in the sidebar is now highlighted on the heatmap

 PRO

 The new "Show in List" button allows you to locate the AP you need in the sidebar, when you click on a location with multiple APs.
Frequency data can now be viewed in Discover mode (but that column is hidden by default)

 PRO

 Zones, snapshots and AP aliases from other projects can be imported via the Zone menu
What's Improved
Lots of speed improvements! Calculation speed has been increased by 2-3 times, loading saved projects is quicker, and the speed of showing values under the cursor on the sidebar and in the popovers has also been increased.

 PRO

 The "Quantity of Access Points" visualization is now in color
Discover mode now features better font colors and saves its visual settings (column width, sorting, etc.)
The heatmap is clickable again, showing a popover with the values at the clicked point

 PRO

 The PDF file generated by Quick Export is more polished
Deleting a sample is now counted as a project change
Memory consumption has been optimized
A network name change is now detected immediately
Sample canceling and deleting the last sample now work much better
Switching visualizations does not result in a new rendering if there were no changes to project data
Survey mode now ignores "unreal" measured values, like the ones that don't match the range of -100 to 0 dBm

 PRO

 The maximum number of zones per project is now 100
What's Next
It doesn't stop here. We have a bunch more requested features in the pipeline, including: iPerf integration, support for external Wi-Fi adapters and WiSpy, predictive surveys, and the ability to join/share multiple surveys.
updated:
January 20, 2023
author: