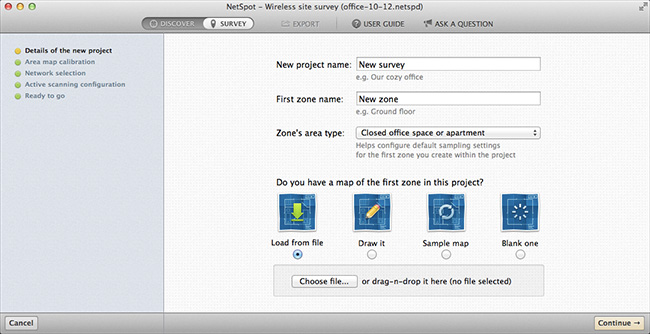 When you first start a survey in NetSpot, it asks you if you have a map of the space you wish to survey. If you already have a digital file of your map (drawn accurately to scale), select the "Load from File" option and then click the "Choose File…" button. It will bring up a window where you can select the map's file location on your computer. All standard image file formats, such as GIF, JPEG, PNG and TIFF are compatible, as well as files created with NetSpot (with the extension .netspm) and PDF. Note: for multi-page PDFs, only the first page is used. Once you have the map loaded, proceed to "How do I start my Survey?".

See "
How do I create and save a map of my area?
" for more tips on creating, scanning and saving your map file.
updated:
August 19, 2022
author: