NetSpot cannot function when Internet Sharing is enabled your Mac's System Preferences. You will receive the following error message: "An error occurred while scanning. Internet Sharing is enabled from WiFi to other computers…"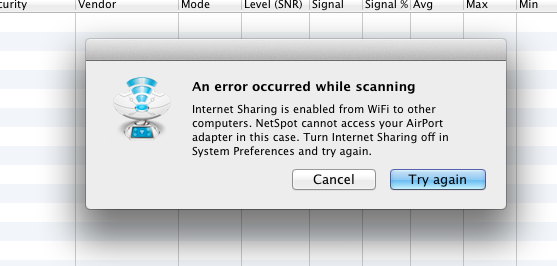 The reason for this is that while Internet Sharing is enabled, NetSpot has no way to access your laptop's AirPort adapter. This mode needs to be turned off to proceed with a Wi-Fi discovery or survey in NetSpot. To turn it off, take the following steps:
Close the NetSpot application.
Warn any other users that share your Internet connection that you are going to be turning off Internet Sharing for a short while and they will lose their connection to the Internet.
Go to Apple menu > System Preferences > Sharing.
Find Internet Sharing in the list of services on the left-hand side and uncheck the box next to it.
Close the System Preferences window.
Restart NetSpot. It should now work as expected.
When you are finished your survey, you can turn Internet Sharing back on by going back into System Preferences and re-checking the box next to Internet Sharing.
updated:
August 19, 2022
author: