Hello, we are Etwok Inc, a small team of independent developers behind NetSpot, a favorite Wi-Fi mapping and analysis tool for millions users worldwide. As of today, NetSpot is available for macOS, Windows, Android and Chrome OS devices, as well as iOS and iPadOS. NetSpot is the most affordable Wi-Fi visualization and heatmapping toolset for everyone: network designers, technicians, hardware managers, as well as not-so-tech-savvy users. If you haven't heard of NetSpot, go ahead, and give it a good try, free versions available.
Today, we wanted to share with you our thoughts about the new incarnation of NetSpot… for visionOS. We think it's high time to talk about the Apple's next big thing.
Just Wow!
We were all blown away by the Apple's long-rumored announcement. Our first temptation was heading to apple.com (the very moment it was up after the event) to get that Vision Pro headset in our hands (bye-bye $3.5k) and experience it as a user/developer/skeptic/proponent asap. But, we were warmly welcomed with the normal human reality of having to wait… till next year. Hm, can we get a test unit at least, please?
While fellow software developers praised the innovation behind the newly announced product, not everyone was as excited, expectedly.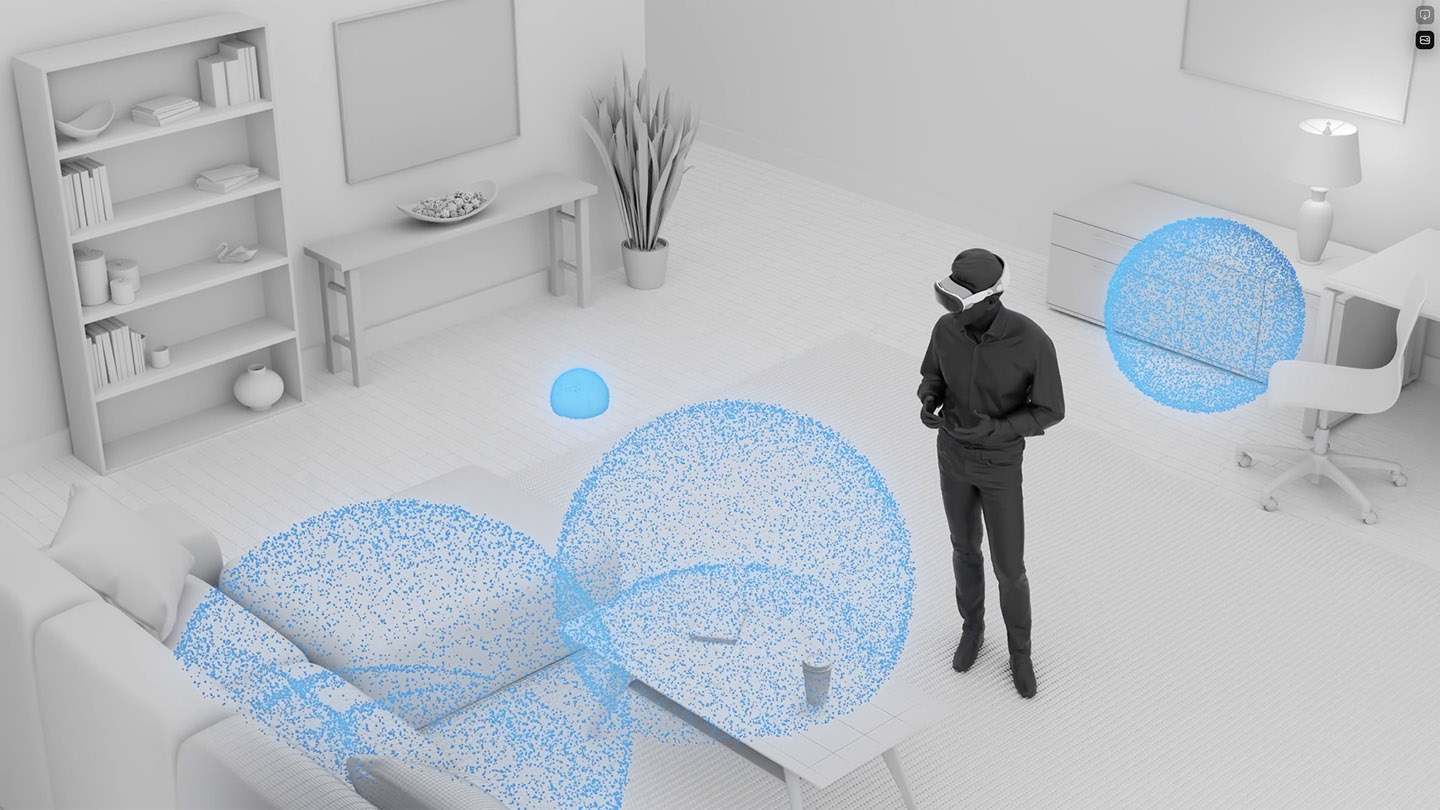 Source: apple.com
There's probably no need to enumerate the long list of awesome things Vision Pro is supposed to empower all of us with (in the nearest future).
There's no doubt it will be:
better than Oculus
made at the highest level of Apple's quality standards
cool
quite heavy
Do we want it? Absolutely! Do our readers, Mac users, and everyone else want it? Probably. There are plenty of reasons to fall in love with the upcoming device.
And this is the point where we might be the first software developer out there to announce how great our brainchild, NetSpot, may become in augmented reality thanks to a device like Vision Pro, well, actually thanks specifically to Vision Pro! After a few cognitive sessions within our cozy dev team, we are absolutely positive, the new Apple's product can change the way people look at Wi-Fi, quite literally! We've always advertised NetSpot as a solution that lets you see your WiFi. With Vision Pro this may become as true as it can actually get!
It definitely looks like in visionOS (the software that will power Vision Pro) apps will live in midair – that's exactly where Wi-Fi lives, the perfect spot… for NetSpot. The freedom to completely rethink your experience with NetSpot.
Not every Apple's "one more thing" becomes revolutionary. But the Vision Pro definitely looks like another leap into the future. Though, we wonder, could it be possible to do without not only joysticks, but the headset all together? Probably, not yet.
However…
The key feature of NetSpot is Wi-Fi heatmapping, or site surveying. It's a geeky way of verifying your Wi-Fi coverage, but also a great approach for everyone to troubleshoot their wireless networks, or even teach students about Wi-Fi and radio frequencies. Is it even possible to bring such functionality to the mixed reality of Vision Pro?
How will it work and what problems are we trying to solve? Will it play well with the classic Wi-Fi surveys that are mostly in 2D these days? Will it have brightness issues being overlayed on top of the existing surroundings? Will you be able to move around freely without bumping on furniture if your Wi-Fi radios become visible all of a sudden? How do we show all the multiple networks around you at the same time? Will the wires be a nuisance? All the videos of Vision Pro show people standing or sitting, but not exactly moving around…
Yeah, we have been thinking about all these questions for quite a while now. Do we have all the answers at the moment? Obviously, no. Have we started our research? Of course, many months ago. Do we believe it's possible for NetSpot to become the first Wi-Fi reality app for Vision Pro? We'll still have to discover and verify all the use cases where NetSpot for visionOS will fit, but we want to be optimistic knowing it's not an obstacle, but an enjoyable opportunity.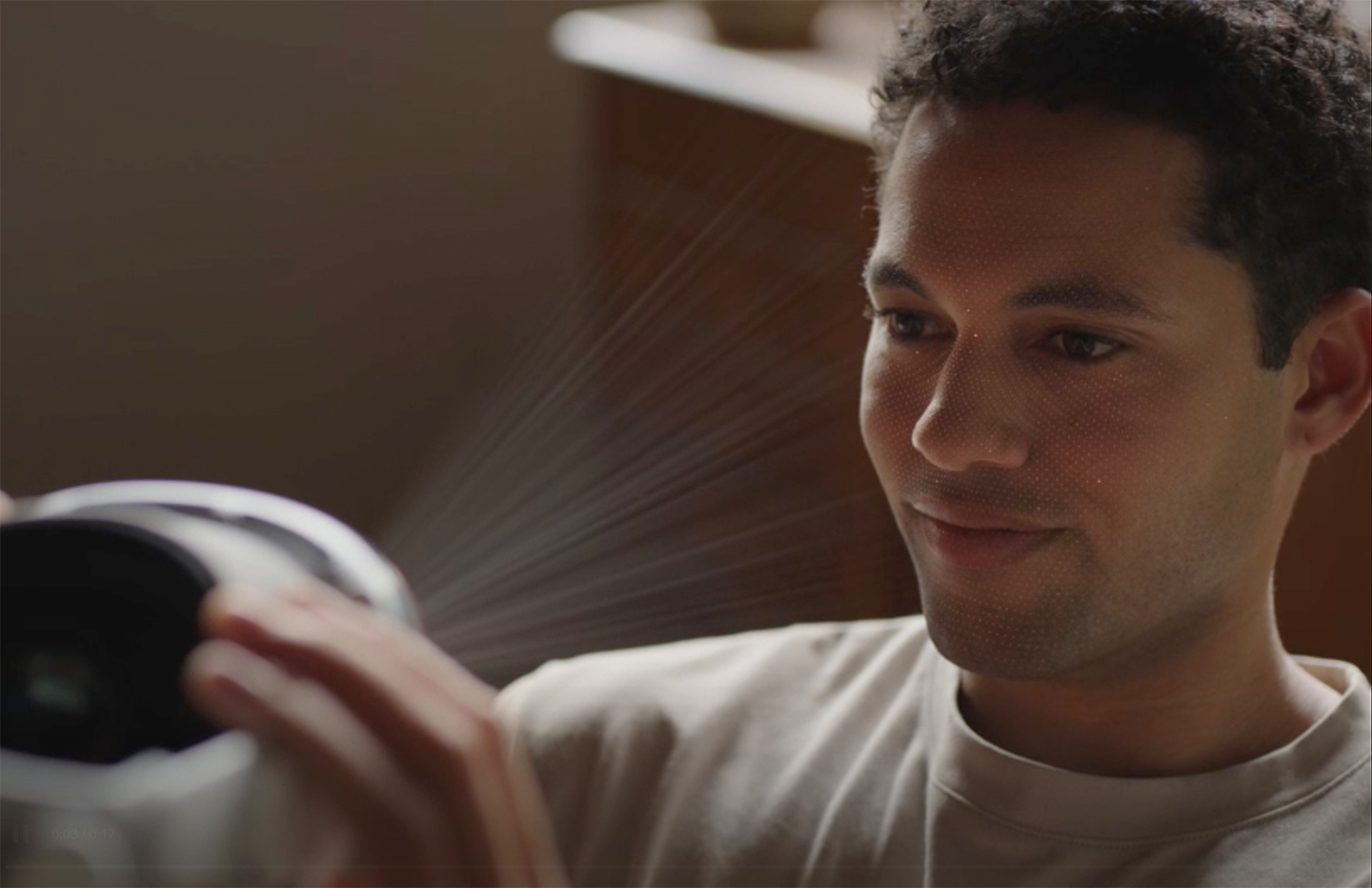 Source: youtube.com and apple.com
We've been promised an "all-new platform" with a brand-new App Store. And Apple is positive the apps will follow. Obviously, by "apps" they mean developers, as apps will not follow by themselves, or by some magical chatGPT prompt, or GitHub's Copilot intervention. Apple does hope no work will be required to convert the existing iPhone and iPad apps. Oh, how many times we had heard similar promises!
Looking at how hard Google is trying to convince software devs to adapt their apps for foldables, like Pixel Fold, we are not so sure iOS apps will jump right in[to visionOS] and within Apple's timeline. So, the availability of "preproduction Apple Vision Pro units and software" is the key right now.
We truly want Vision Pro to become a success in B2C. But is the price right? Also, as we all know, Google's AR headset turned out to be more interesting to industries like construction, medical research, military, rather than consumers.
From the developer's standpoint, we still need to test the device and early releases of visionOS to find out how restricted it may be in terms of available frameworks and low-level access for non-Apple's apps. Every new OS released these days seems to be more user-friendly, but less open to developers. We can write games and endlessly improve document-processing apps and web-services, but without proper low-level access to the core OS features, hardware, system disk, network adapters, more and more computers end up bricked and unrecoverable these days. iOS is way more restrictive to an average software developer, than macOS. tvOS is less open than iPadOS. Following this trend, visionOS may be even more limited in technical terms.
Apple boldly states "The choice is yours" when addressing developers from their visionOS web-page, and we are very optimistic about this unique opportunity, but it doesn't sound that, as developers, we will actually get much of a choice (again).
The "familiar tools and frameworks like Xcode, SwiftUI, RealityKit,… ARKit" still don't allow simple straight access to Wi-Fi data on iOS and iPadOS. With every new update, even macOS is less and less reliable in detecting and measuring radio noise, or providing this data to third-party apps, like NetSpot. And we doubt "support for Unity" on Vision Pro will help professional real-life feature-rich applications.
Still 🧐
Nevertheless, we are thrilled about the possibilities of a "Full Space where [your] app's content will appear", as this is a unique opportunity for us to bring NetSpot's amazing Wi-Fi visualizations to life, and attempt to immerse network experts into a more satisfying spatial info-space. Seeing real environments with Wi-Fi fog overlayed, instead of just a floor plan? In real time? That's worth a lot.
The upcoming NetSpot 3 for iOS and iPadOS should resolve some technical restrictions and give users very true-to-life Wi-Fi heatmaps. Our next task will be going from 2D into 3D with the virtually lag-free, real-time view of the world in visionOS. Depending on Apple's internal implementation of the coordinate system, the possibilities to digitize real-life objects and add custom surrounding effects to fill the virtual space, NetSpot for visionOS may be a very welcome addition to the family of our branded apps.
Are you also waiting for Vision Pro SDK, as promised by Apple in June 2023 to be available "later this month"?
Let's see which name Vision Pro will have in China when it's released 🍿
We are officially ready to bring NetSpot to the new platform. Apple, it's your move now.
This article is certified AI-free
Written by genuine humans from the NetSpot team in 2023 AD
Note:
when referring to
NetSpot for iOS
, we mean its next major release, v3, which is currently being tested and prepared for the public reveal. Yes, we are finally sunsetting the requirement for additional hardware (we are truly sorry for the current 1-star rating, we tried to explain pre-requisites in every detail through textual descriptions, screenshots, and videos, but not everyone wants to read these days), and users will be able to build WiFi heatmaps right on their iPhones and iPads!
updated:
August 11, 2023
author: