We are here today to share this great news with our users and visitors!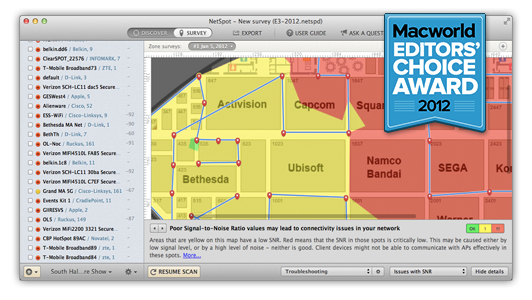 As you might already know, NetSpot 2, the acclaimed Wi-Fi site survey app, has been named as a MacWorld 2012 Editors' Choice Award winner. The award is given each year to a handful of Mac products that stand out for their impressive examples of quality, value, and innovation. The MacWorld Editor's Choice Awards is one of the most prestigious awards in the industry.
Out of the hundreds of Mac apps introduced in 2012, NetSpot 2 was one of only eight software applications chosen. Past winners of the award include Dropbox, Evernote and Hulu.
We are so pleased to receive this award, because quality and innovation are exactly what we are trying to deliver with NetSpot 2.0. We believe everyone should be able to easily manage their Wi-Fi network.
NetSpot 2 was named in the "Working Mac" category and MacWorld had this to say about
the app: "NetSpot, a software utility for analyzing and troubleshooting Wi-Fi networks, is an essential tool. It determines the rough location of your base stations, and maps out the strong and weak points of Wi-Fi coverage in a building. You can then use the information to adjust your base stations accordingly, or to figure out where to put Wi-Fi expanders. Even though NetSpot is a networking utility, it uses friendly visual cues to help you understand the collected data. Best of all, NetSpot is a free tool."
NetSpot 2 brings Mac users an unprecedented set of network survey tools, giving them the
power to visualize their networks, identify areas of weakness and quickly correct problems. The PRO edition gives network administrators even more advanced features, including multi-floor scanning, active scanning, the ability to scan hidden networks, and automated troubleshooting. No other Mac software – free or paid – provides such a comprehensive set of network scanning tools.

updated:
April 23, 2018
author: