Get to know the first truly mobile NetSpot — an iOS version!
To get Free NetSpot for Windows and macOS, click here.
NetSpot for iOS is installed on your phone or tablet*, using which you can easily discover WiFi networks around you, analyze and compare their parameters, as well as perform an Internet speed test for your connection.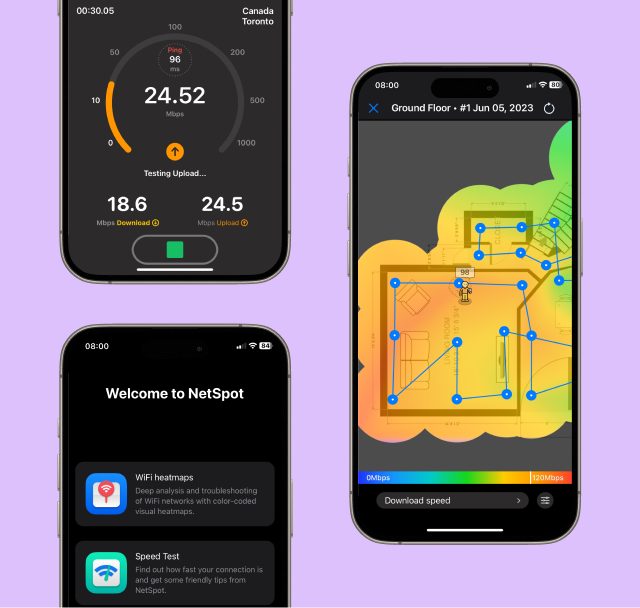 *At this time all features of free NetSpot for iOS, except for Internet speed test, are only available with the WiPry 2500x by Oscium connected to your mobile device. Internet speed test can be performed without WiPry 2500x.
Internet speed test

You are off to a good start – test your Internet speed with NetSpot for iOS (works without WiPry 2500x).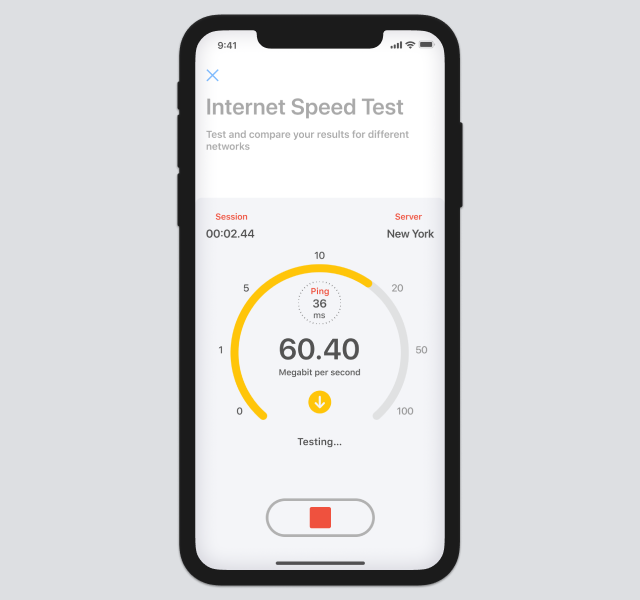 Upon opening the app click the

button in the top right corner. If you have run this test before, you'll see your Internet speed for the analyzed network from last time as well as when it was run and which server was used. It will also show you the ping value. To run a new test, click the red Run Speed Test button and wait till the test has been completed.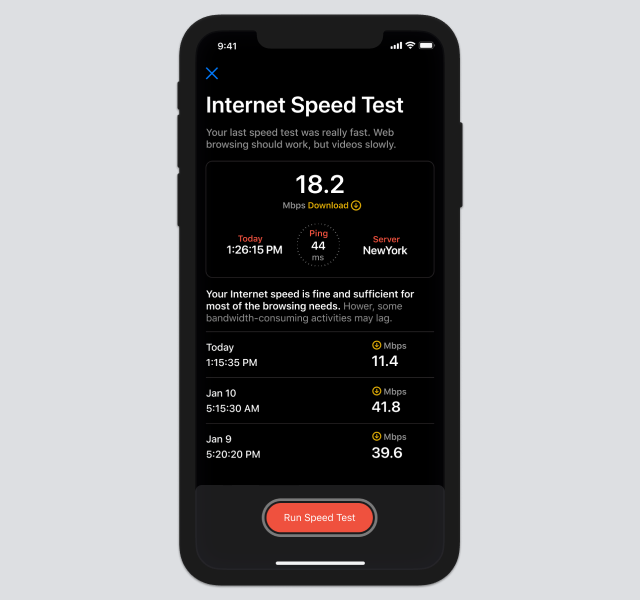 The following data will be reflected on your screen:
Download speed (measured in Mbps) is an indicator of how fast your device is downloading data from the Internet. If you have noticed your Internet connection being too slow for your activities, it'll be reflected in the resulting Download speed measurement.
Ping is the time (measured in milliseconds) it takes a signal sent from your computer to be received by a remote server. It is an important parameter for such activities as online games or video calls. The latency as well as the ping values depend on the distance between your computer and the reference server.
The location of a remote server used for the specified measurements.
Date and time the measurements take place.
How is my Internet speed?
NetSpot will also give you tips on what the values that you got might mean. Depending on the Internet speed test results your connection speed might be low and only suitable for basic browsing, or it can be fine and allow you to do more. Good Internet speed will let you browse, download, stream, and play online games without any major slowdowns, while a fast connection allows for limitless Internet activities without any issues whatsoever.
Data refresh frequency

NetSpot collects the following parameters for each network it polls:
Network Name (e.g. TP-LINK_BCFF)
MAC Address (e.g. F0:79:69:EA:98:27)
Signal (e.g. -61 dBm)
Band (2.4 GHz or 5 GHz)
Channel (1-144)
Security protocol
The collected data is refreshed every 5-10 seconds.

! NetSpot can operate in both horizontal and vertical screen orientations.
When performing a wireless scanning you can use the following options:
Click Stop in the top-right corner of the app to stop the process. Click Play to resume.
Click the "Filter" button in the top-right corner of the app to use such filters as name, signal level, security protocol, and band for filtering the networks.
Click the Reset button in the top-right corner of the app to reset all filters. To close the window with applied filters, click the Close (✖️) button.
Find available networks and compare them

NetSpot for iOS has two modes: Networks and Comparison.
Networks

In Networks mode NetSpot will list all found wireless networks and show these parameters for them:
Network Name (e.g. TP-LINK_BCFF)
MAC Address (e.g. F0:79:69:EA:98:27)
Band (2.4 GHz or 5 GHz)
Signal (e.g. -61 dBm)
Channel (1-144)
Security protocol
In front of the name of every found wireless network, you'll see a color indication of its signal strength.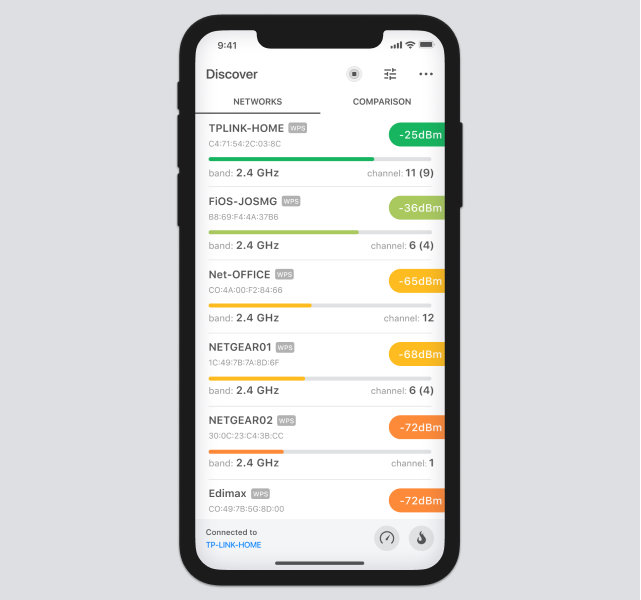 This data is refreshed every 5-10 seconds and this is what it means:
Red – weak signal
Orange – poor signal
Yellow – average signal
Light-green – good signal
Green – strong signal

At the bottom of the screen, you can see which of these networks you are connected to and its signal strength.
Important!
In the list of networks there will be those that are currently active as well as those no longer actively detected:
– ACTIVE networks are those NetSpot can collect and refresh the data about;
– LOST are considered those networks NetSpot couldn't collect any data about since the last scan. Such networks display additional "last seen X min ago" information.
Comparison

The Comparison mode allows applying various filters in order to compare networks by such parameters as frequency band, signal level, security protocol. NetSpot will also show information on which channels a network broadcasts and whether there is a channel overlap.
Comparison mode is accessible via a left swipe or the corresponding tab in the app.
Adding a network to the comparison graph

Go to Comparison mode and choose the networks you want to compare by ticking off their boxes.
The color of the checkbox will be the color of the network in the graph.
The graph is regularly refreshed every 5-10 seconds.
Types of graphs

Signal Strength (Timeline)
Compare the signal strength of the discovered wireless networks.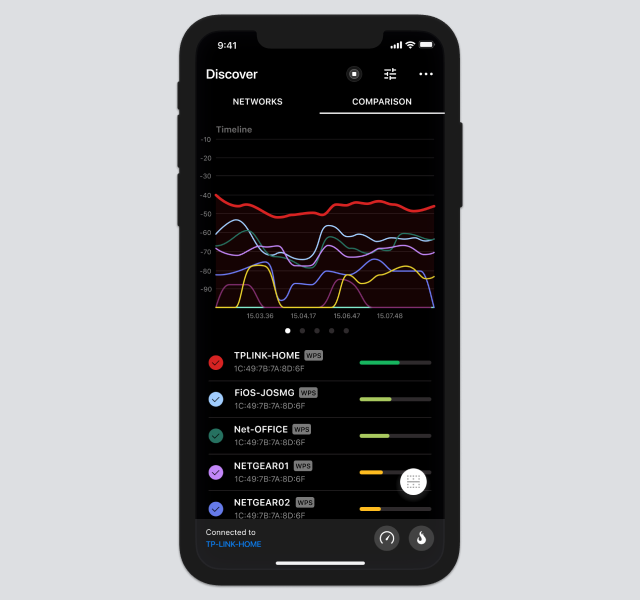 Channel overlap 2.4 GHz / 5 GHz
On this graph, you will be able to see which channels WiFi networks broadcast on and whether there is a channel overlap.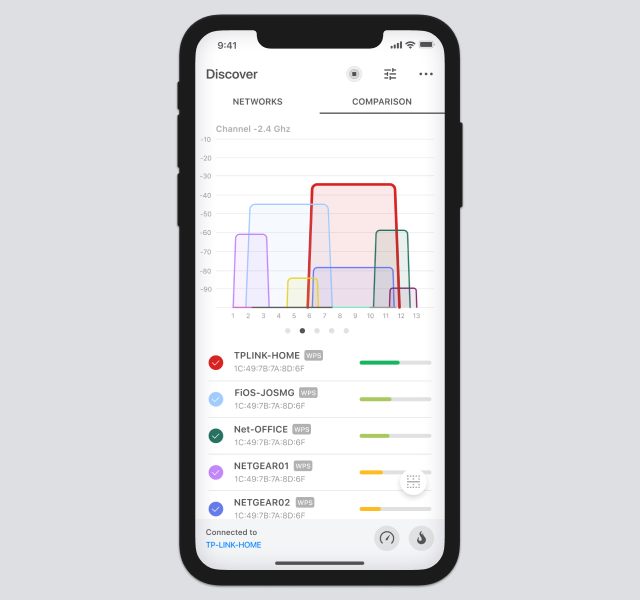 Important. On a graph for both 2.4 GHz and 5GHz bands, the networks operating on these bands will be shown. If some of the selected networks operate on different bands, they will be depicted on different graphs.
Why there is a difference between 2.4 GHz and 5 GHz graphs
WiFi networks operating on different frequency bands do not overlap, hence different graphs. The 5 GHz frequency offers more channels than the 2.4 GHz one.
Swipe left to see the next graph, and swipe right to go back.
Filters

While in the "Comparison" tab you can apply various filters to WiFi networks you are analyzing.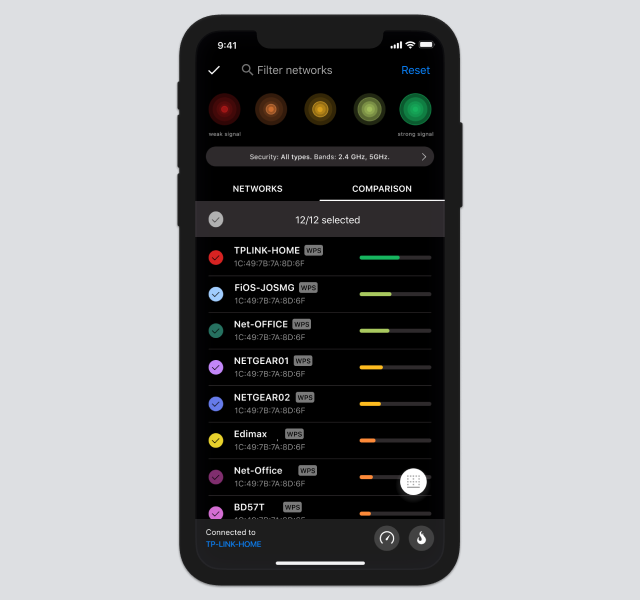 Filter by signal strength

To use the signal strength filter, tap the circle icon in the top-right part of the app and select the color-coded levels you want to be displayed. You can select several signal strength levels at a time.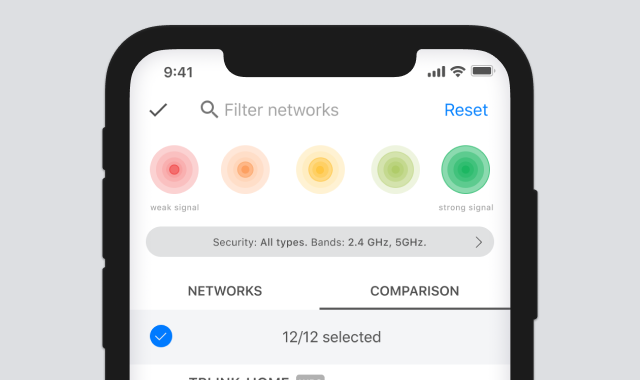 By default, all networks with any signal strength level are listed. When you disable one of the levels, the colored icon will turn gray. Tap on it to enable it again.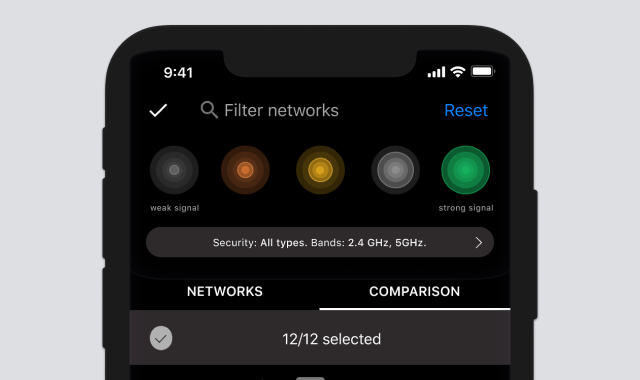 Filter by security protocol

The following parameters are available for filtering:
☑️ None
☑️ WPS
☑️ WEP
☑️ WPA
☑️ WPA2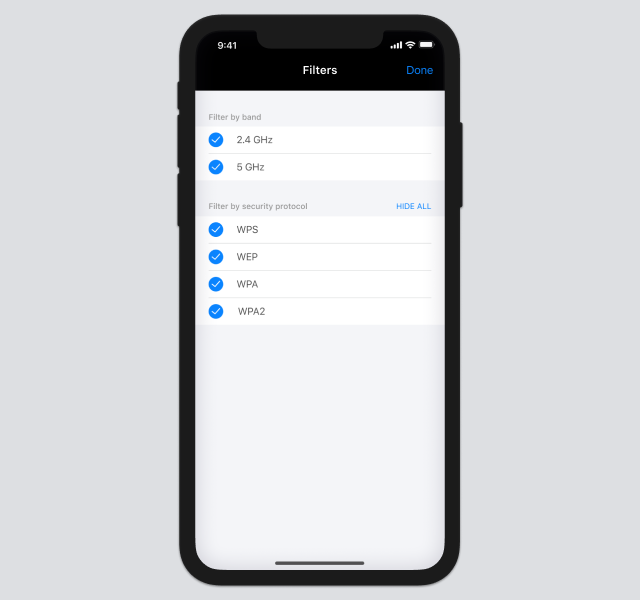 Filter by frequency band

To apply the frequency band filter choose on the following parameters:
Filter by name
At the top part of the app window, you can see the search box. Type in the name to see how many networks have this value in their names.
Important. Filters can be combined together any way you like.
Also important. You can minimize/maximize comparison graphs by simply tapping on them or swiping down or up.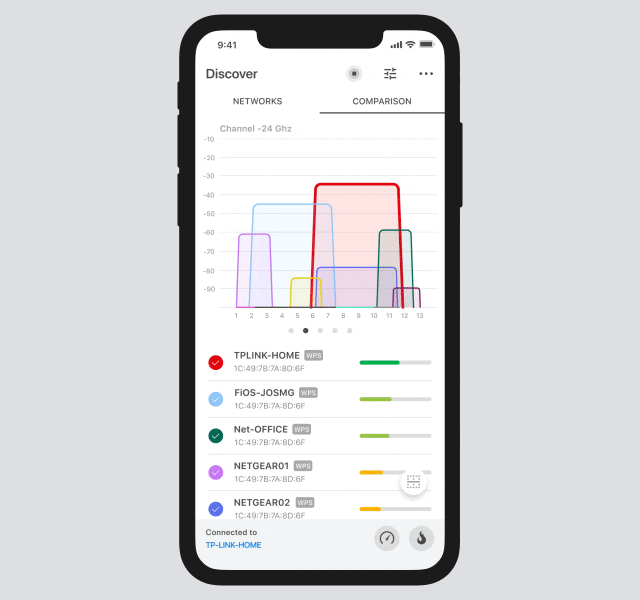 FAQ:

Q: What devices are supported by NetSpot for iOS?
Any mobile iPhone, iPad or iPod touch device with iOS 11.0 or later is supported.
Q: Do I need any additional hardware with NetSpot for iOS?
Yes, you need to connect WiPry 2500x from Oscium to your iOS device to start scanning surrounding WiFi networks.
Q: How much does NetSpot for iOS cost?
NetSpot for iOS is completely free. You can download it from the App Store.
Q: What area does NetSpot cover?
The covered area will usually depend on the device you are using. An estimate is around 492 ft (150 m) outdoors and 164 ft (50 m) for indoor areas.

Q: What's the difference between the mobile and desktop versions?
Obviously with the mobile version you can stay more mobile and collect data without having too much weight on your hands. Note that NetSpot for iOS works only with WiPry 2500x from Oscium.
The desktop version of NetSpot offers the following options (not available in iOS version yet):
Survey mode;
Measuring noise levels;
Identifying the WiFi standard (g, n, ac, etc.);
Exporting survey results into CSV.
Q: When will you add Survey mode?
We are working on implementing it asap. Follow us on Twitter to stay tuned.

Q: Is my information safe with NetSpot?
The data you collect with NetSpot is never used or saved by us in any way. We highly respect your privacy and do our best to protect it.

Q: Do you happen to have NetSpot for Android?
Yes, we do! NetSpot for Android can be downloaded from Google Play. For more information about it, please check here.
updated:
April 3, 2023
author: