Welcome to the first truly mobile NetSpot — an Android one!
With NetSpot for Android, you can use your phone or tablet to discover WiFi networks around you to analyze and compare their parameters.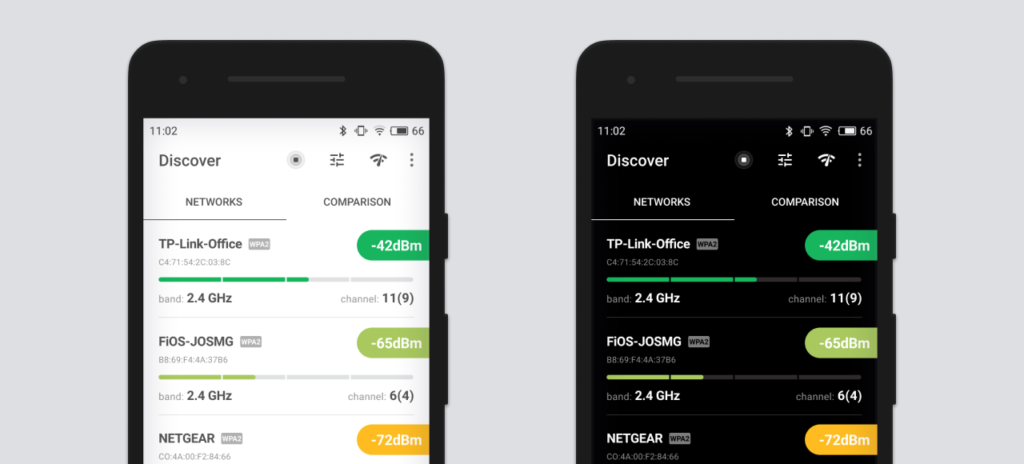 Internet speed test
Ready to test your Internet speed? NetSpot for Android is a great tool to be aware of your Internet speed values and to observe any changes in them.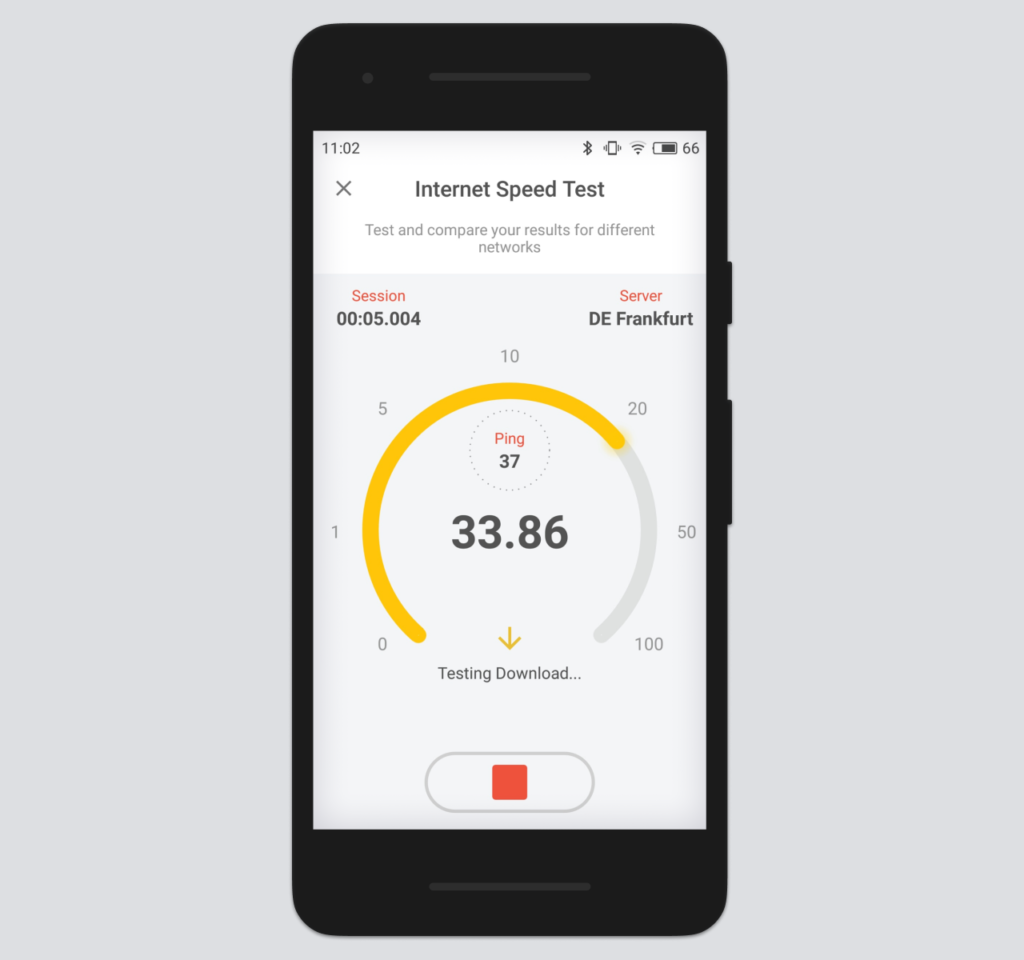 To start, open NetSpot and click the

button in the top right corner. If you have recently performed this test, the previous value of your Internet speed for the network you analyzed will be displayed as well as the information on the time of the test and the server used. It will also show you the ping value from last time. To run a fresh test, click the red Run Speed Test button and wait for it to be completed.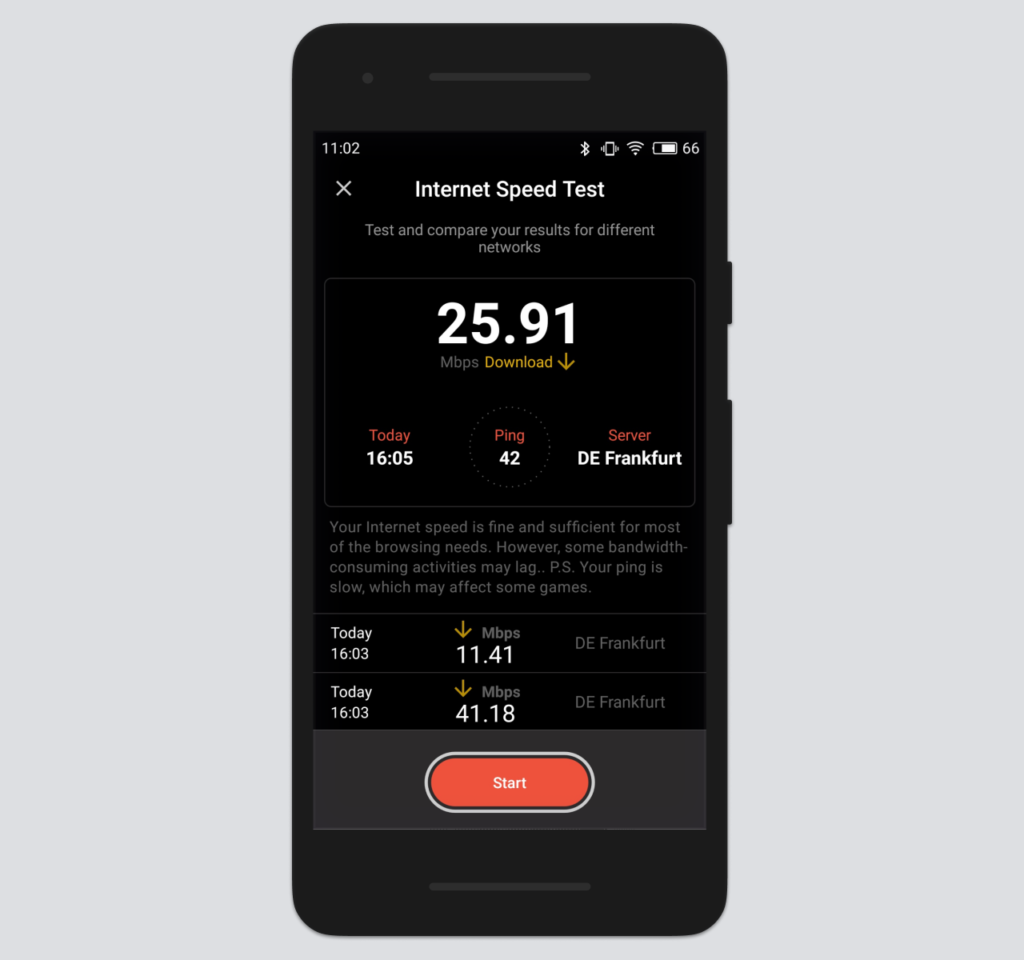 Upon the test completion you'll see the following details:
Download speed (Mbps) – indicates how fast your device downloads data from the Internet. If you have been noticing your Internet connection to be insufficient for your activities, you can trace the connection with the resulting Download speed measurement.
Ping (milliseconds – ms) – the stretch of time it takes a data packet sent from your computer to reach a remote recipient. It is an important parameter for such activities as online games or video calls. The ping and subsequently the latency value depend on the distance between your computer and the reference server.
The location of a remote server that was used in this test.
Date and time the measurements take place.
How is my Internet speed?
Depending on what results you get after the Internet speed test is complete, NetSpot will give you some tips on what these values might mean for the quality of your Internet usage. If the Internet speed turns out to be low, that means it can only be suitable for basic activities like browsing. Your Internet speed might be fine and allow you more than just browsing, but still not quite there yet to offer browsing, downloading, streaming, and online gaming without any major slowdowns like a good Internet speed would. If you have a fast Internet speed then you are good to do any activity online without any hiccups at all.
Data refresh frequency
Here's the data collected by NetSpot for each network it polls on Android:
Network Name (e.g. TP-LINK_BCFF)
MAC Address (e.g. F0:79:69:EA:98:27)
Band (2.4 GHz or 5 GHz)
Signal (e.g. -61 dBm)
Channel (1-144)
Security protocol
The data is collected by NetSpot and refreshed every 10 seconds (up to 30 seconds for Android 9).
! NetSpot works in both vertical and horizontal screen orientations.
The following features are available when wireless scanning is active:
Stop

the

wireless scanning process, click Stop in the top-right corner. Click Play to continue scanning.
Filter displayed networks, click the "Filter" button in the top-right corner. You can filter WiFi networks by name, signal level, security protocol, and band.
Reset filters, just click the Reset button in the top-right corner. To close the dialog with filters applied, please click the Close (✖️) button.
Find available networks and compare them
There are two modes in NetSpot for Android: Networks and Comparison.
Networks
In this mode, you can see the list of all detected Wi-Fi networks. For every network the following data is shown:
Network Name (e.g. TP-LINK_BCFF)
MAC Address (e.g. F0:79:69:EA:98:27)
Band (2.4 GHz or 5 GHz)
Signal (e.g. -61 dBm)
Channel (1-144)
Security protocol
You'll see the color indication of WiFi signal strength in front of the name of every detected network. This data is renewed every 10 seconds (up to 30 seconds for Android 9).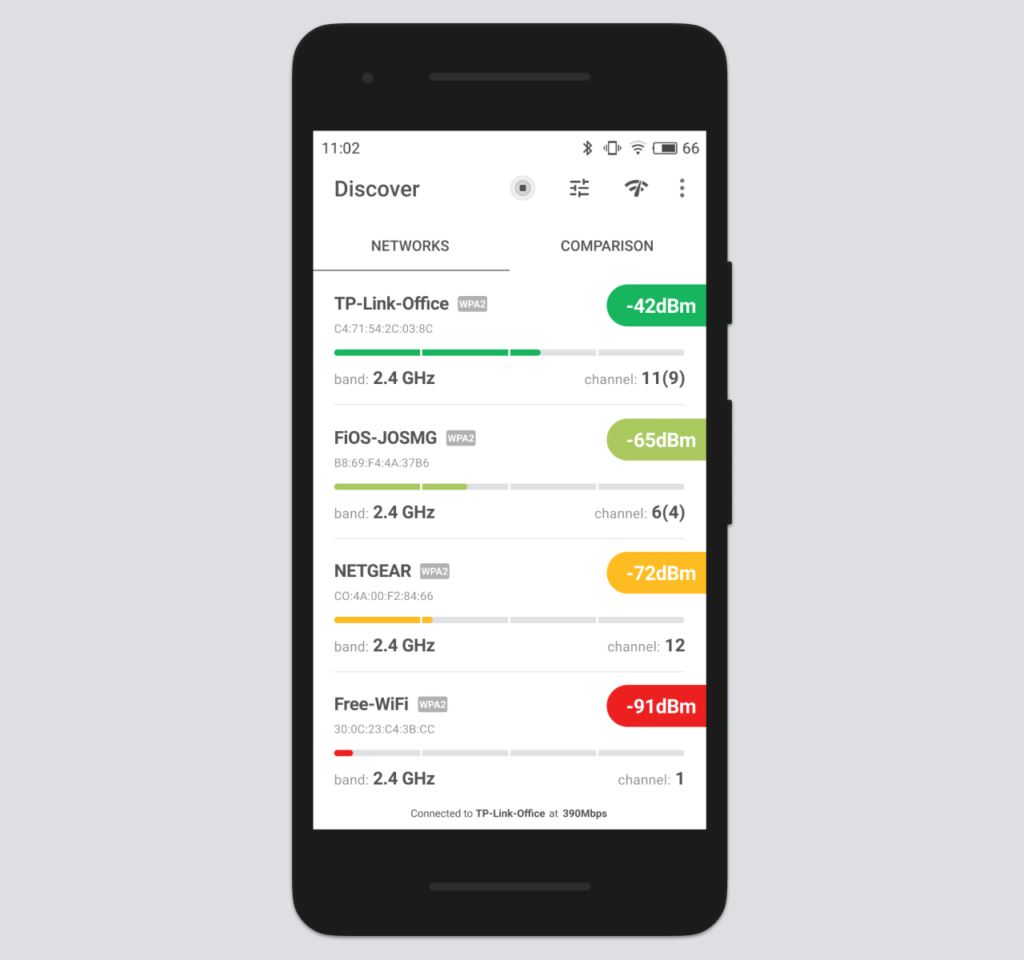 Color index:
Red – weak signal
Orange – poor signal
Yellow – average signal
Light-green – good signal
Green – strong signal
At the bottom of the screen you'll see which network you are currently connected to and its signal strength.
Attention!
#1 – In your list, you'll see currently active networks or those that are no longer actively detected:
– ACTIVE, if NetSpot regularly collects the data about the network (signal strength);
– LOST, if NetSpot couldn't collect any data about the network since the last scan. These networks display additional information as the "last seen X min ago" notification.
Comparison
This mode allows you to filter and compare networks according to certain parameters: frequency band, signal level, security protocol. You'll also see such information as which channels a network broadcasts on and whether there is a channel overlap. To switch to Comparison mode, tap the corresponding tab or just swipe left.
How to add a network to comparison graph
— In comparison, mode select the network you want to compare from the list by checking their boxes.
— The color of the checkbox is the color of the network you'll see in the graph.
The data on the graph will be refreshed in 10 seconds (up to 30 seconds for Android 9).
Types of graphs
Signal Strength (Timeline)
With this graph, you can compare various wireless networks according to their WiFi signal strength.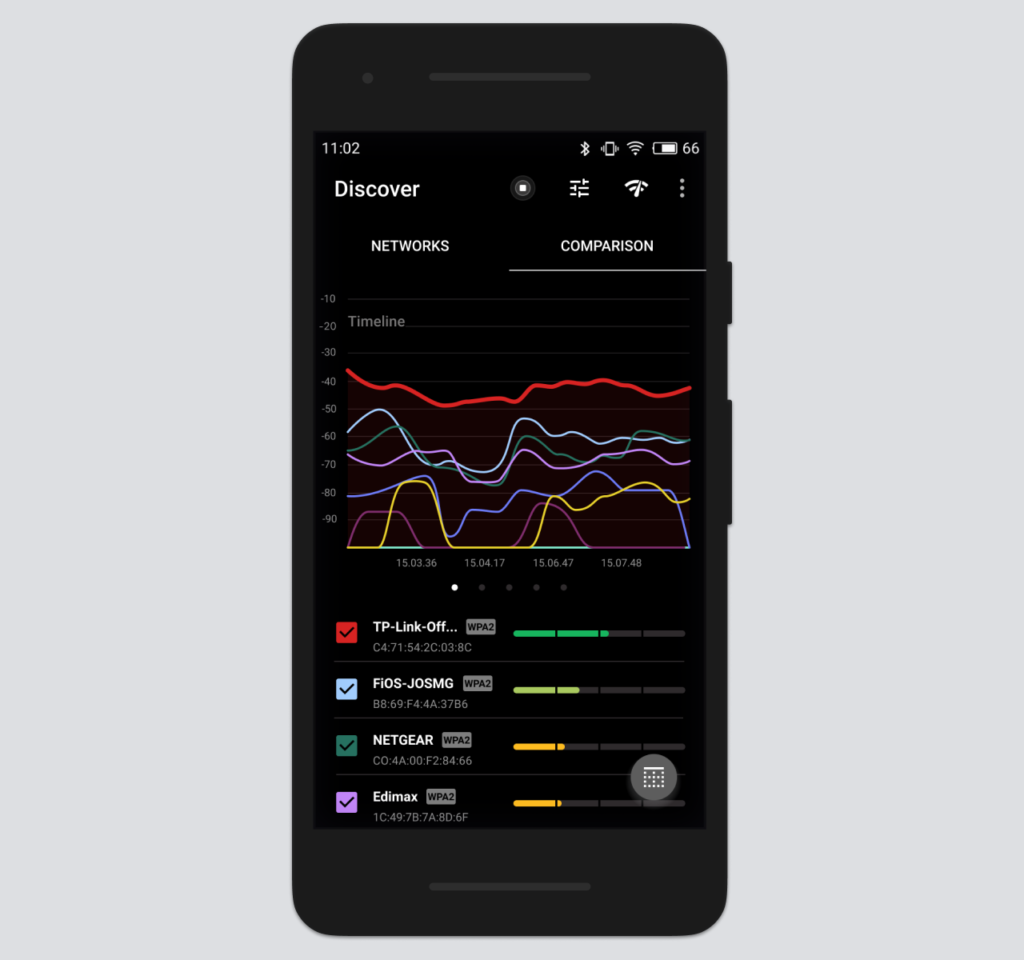 Channel overlap 2.4 GHz / 5 GHz
This graph will show the channels 2.4 GHz / 5GHz WiFi networks broadcast on. You'll be able to clearly see a channel overlap when there is one.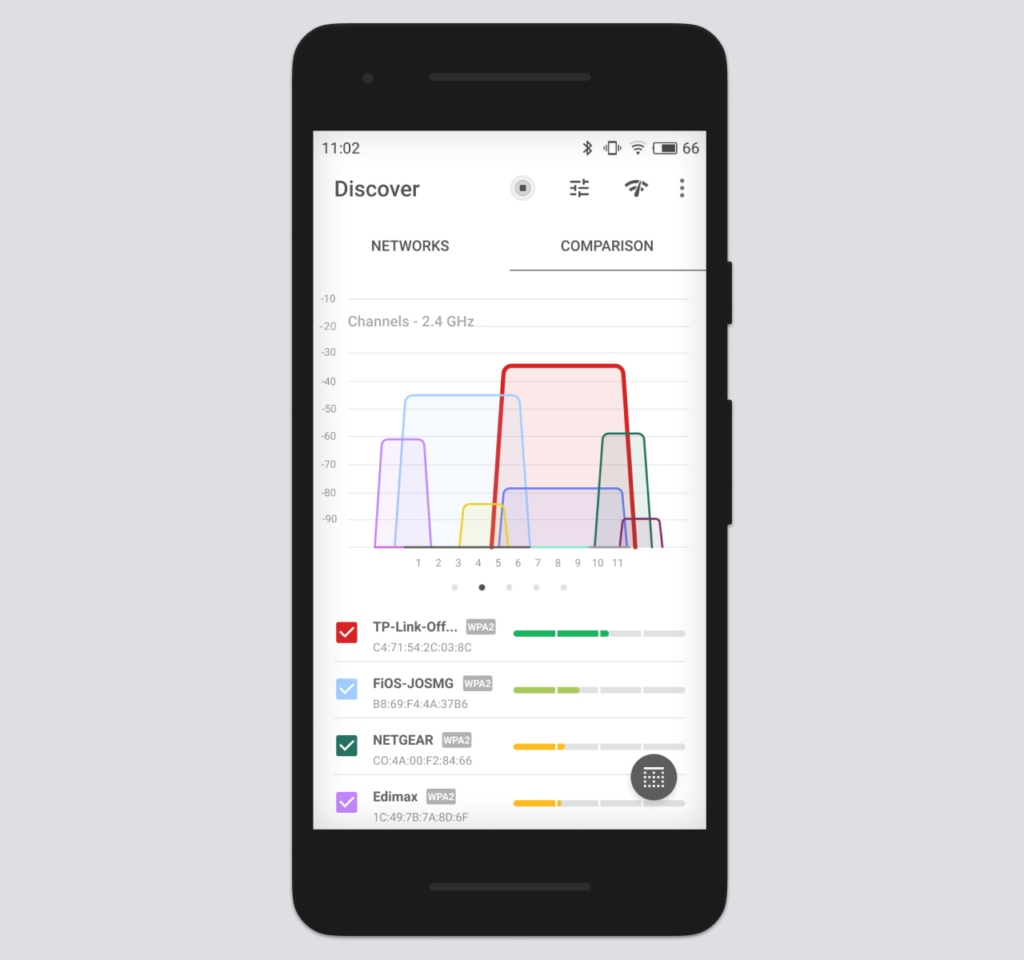 Note that on Channel overlap graph for both 2.4 GHz and 5GHz frequencies the corresponding WiFi networks will be shown that operate this frequency band. If you have selected several networks that operate on different bands, they will be shown in different graphs.
The difference between 2.4 GHz and 5 GHz graphs
The difference would be in the frequency bands used by a WiFi network. WiFi networks on different bands don't overlap.
The 5 GHz frequency band offers more channels than the 2.4 GHz one.
Swipe left to see the next graph, and swipe right to go back to previous.
Filters
"Comparison" tab offers various filters for WiFi networks.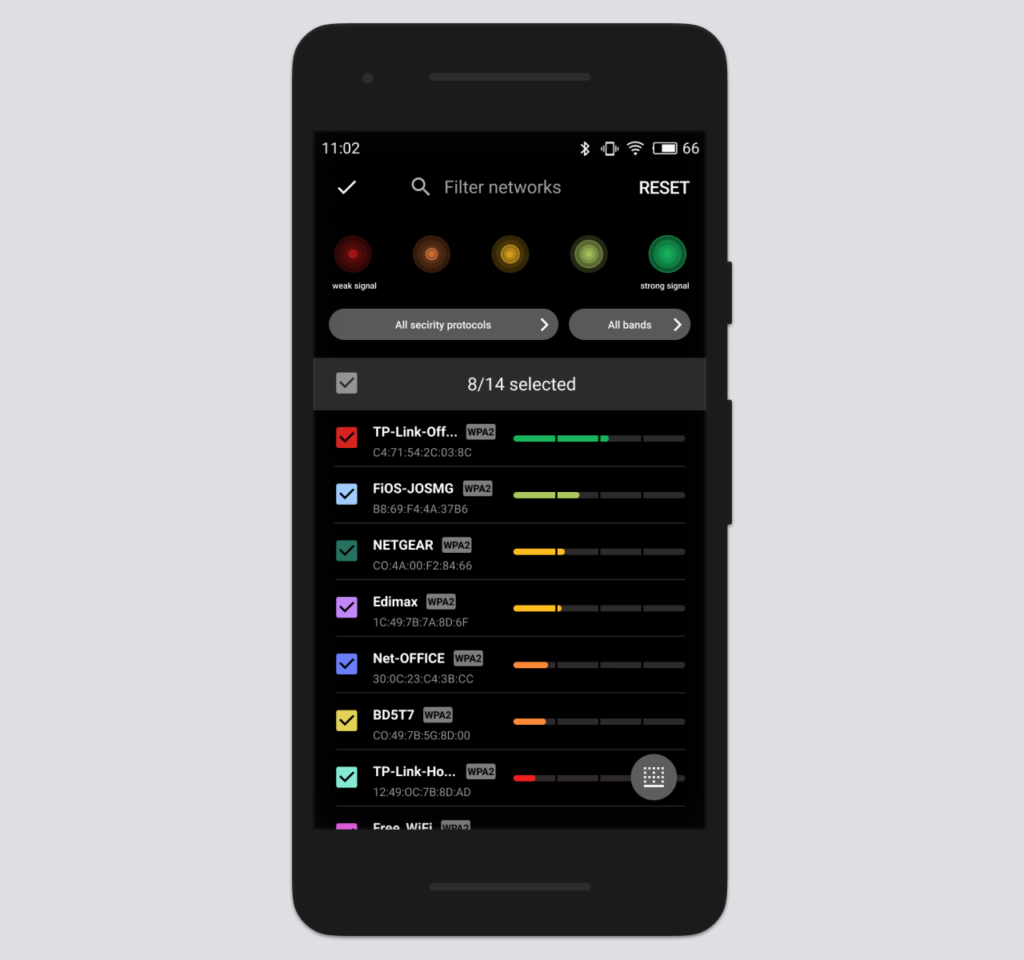 Filter by signal strength
To filter the detected networks by their signal strength, tap the circle icon at the top-right area of the app and choose the levels (they are conveniently colored for easier selection) you would like to see on the list. You can choose several signal strength levels at a time.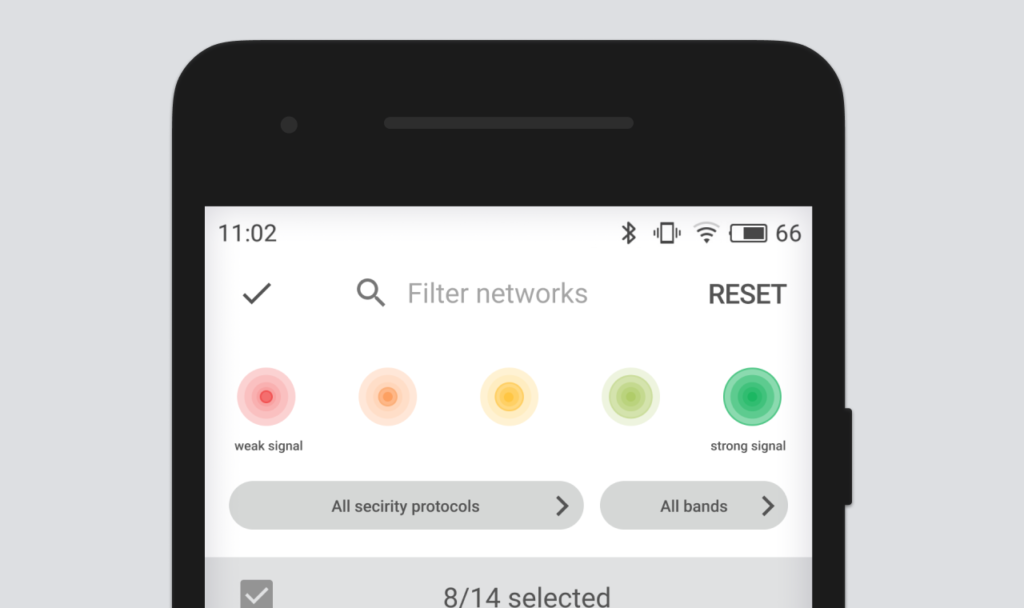 By default, the networks of all signal levels are listed. If you disable one of the signal level filters, it will turn grey. Tap it again to see the networks of this signal strength again.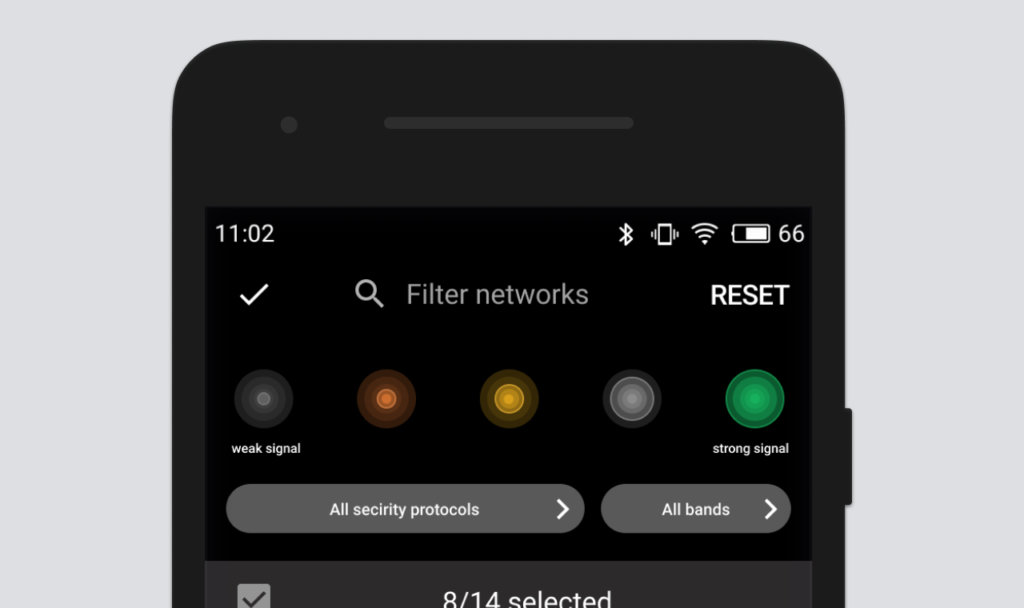 Filter by security protocol
To filter WiFi networks by their security protocols, choose one or several parameters from the list:
🔲 None
🔲 WPS
🔲 WEP
🔲 WPA
🔲 WPA2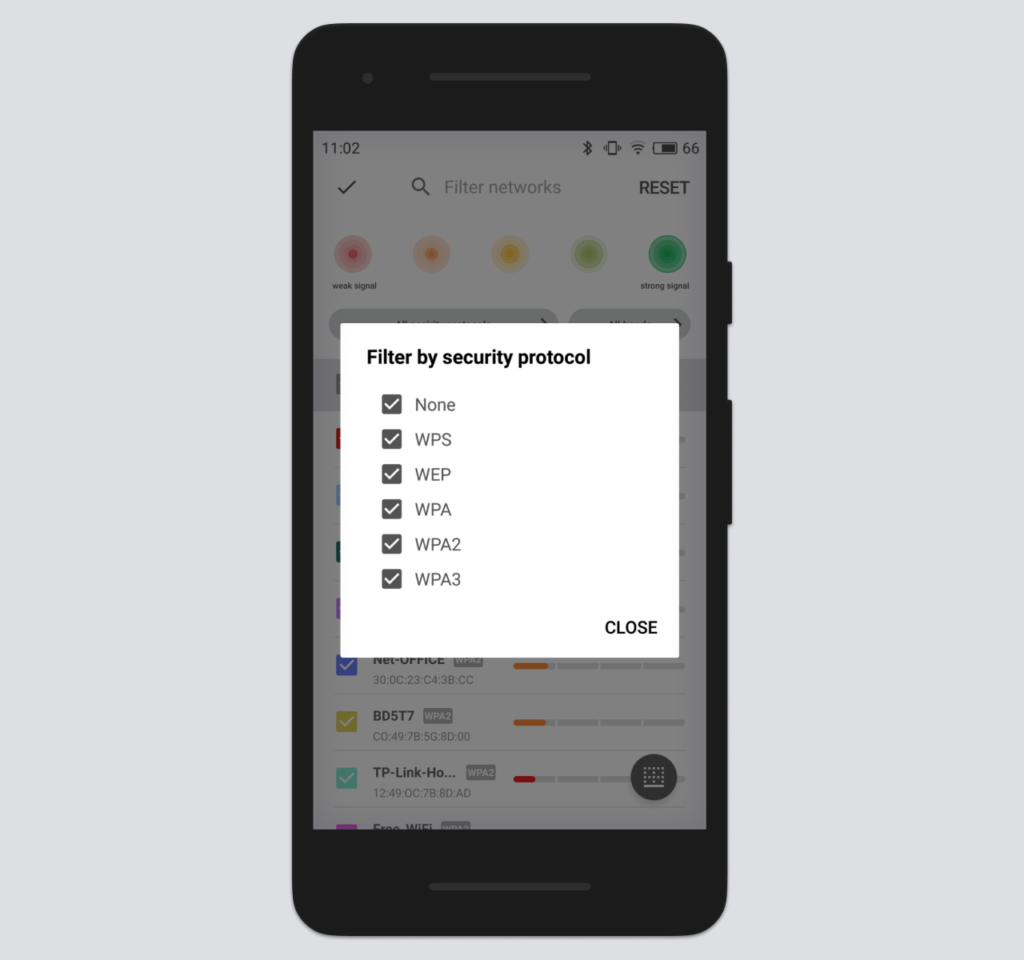 Filter by frequency band
To filter WiFi networks by frequency band, choose one or both bands from the list: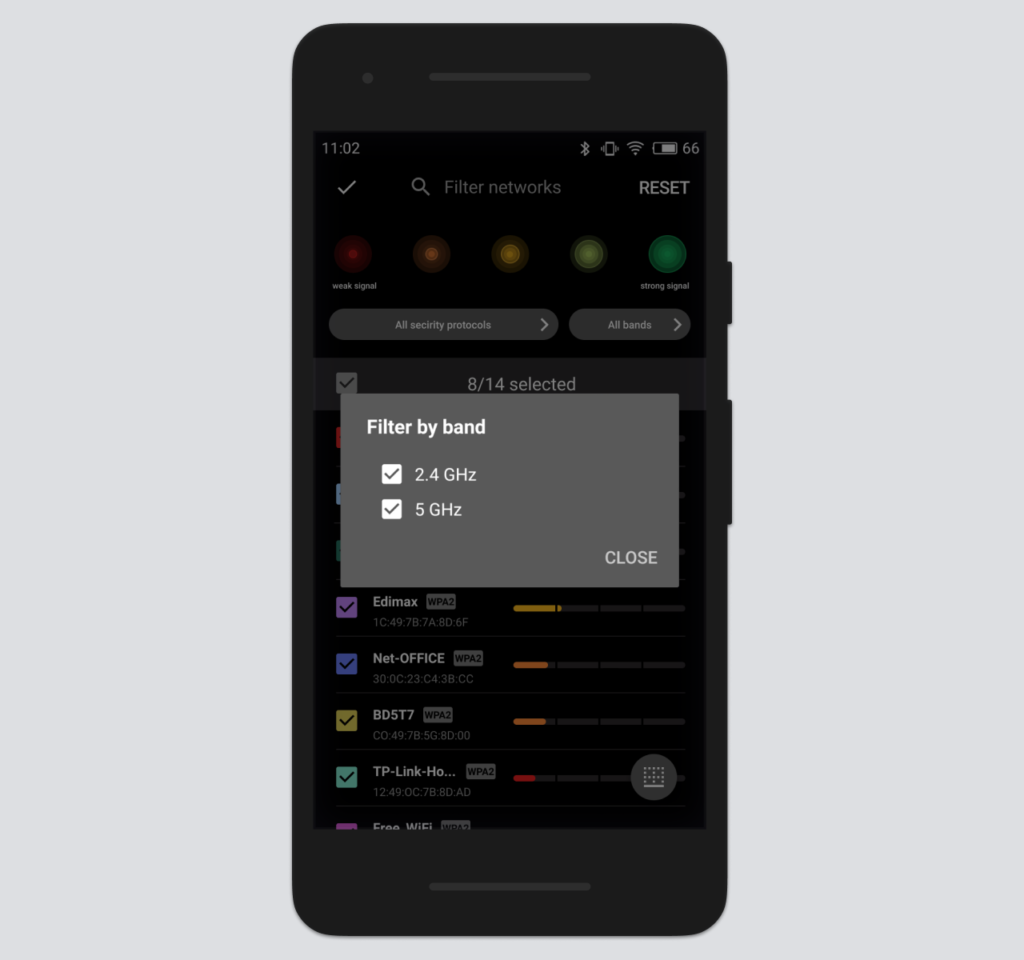 Filter by name
In the search box at the top of the app, enter the name to be able to see the networks containing this exact value in their names.
! You can combine various filters together
Comparison graphs can be minimized as well as maximized by tapping or swiping up/down.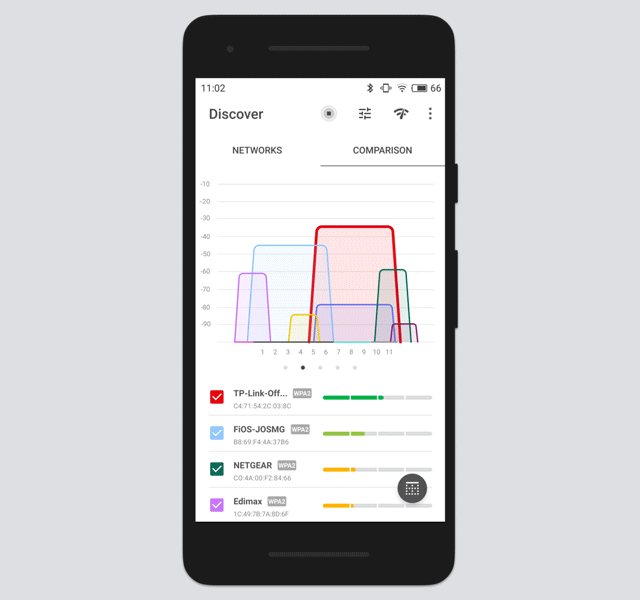 FAQ:
Q: What devices does NetSpot support?
Any mobile device with Android 6.0 or later is supported.
Q: What area does NetSpot cover?
The covered area size usually depends on the device you are using. Usually around 492 ft (150 m) for an outdoor zone and 164 ft (50 m) for premises.
Q: What's the difference between this version and the desktop one?
NetSpot for Android allows scanning and analyzing surrounding WiFi networks to see if there are any issues and find the possible fixes for them.
NetSpot for desktop offers the following options (that are not available in Android version yet):
— Survey mode;
— Measuring noise levels;
— Identifying the WiFi standard (g, n, ac, etc.);
— Export survey results into CSV.
Q: When will you add Survey mode?
We are already working on adding it to NetSpot for Android. Stay tuned for updates from our developers.
Q: Why does NetSpot need my location?
To comply with current Google policies, the apps working with WiFi data have to request the permissions to read user's/device's location. You can read more about it here.
Q: Is my information safe?
We highly respect your privacy and never save your data or send it to any third parties.
Q: Will you ever release NetSpot for iOS?
The release date can't be given yet. However, we are working on it and plan to deliver it to you as soon as possible. Stay tuned for updates from our developers.
Q: Does NetSpot for Android support Chrome OS?
Yes, Chromebook support has been added in the 1.1 version of NetSpot for Android. However, for the time being, the security type of a network (WPS, WEP, WPA, WPA2) will not be shown on Chromebook.
updated:
March 18, 2021
author: